Deprecated
: Creation of dynamic property html_changer\EndingTag::$attributes is deprecated in
/var/www/html/worldnews/wp-content/plugins/automatic-internal-links-for-seo/vendor/friedolinfoerder/html-changer/src/HtmlChanger.php
on line
552
Deprecated
: Creation of dynamic property html_changer\EndingTag::$attributes is deprecated in
/var/www/html/worldnews/wp-content/plugins/automatic-internal-links-for-seo/vendor/friedolinfoerder/html-changer/src/HtmlChanger.php
on line
552
Deprecated
: Creation of dynamic property html_changer\EndingTag::$attributes is deprecated in
/var/www/html/worldnews/wp-content/plugins/automatic-internal-links-for-seo/vendor/friedolinfoerder/html-changer/src/HtmlChanger.php
on line
552
Deprecated
: Creation of dynamic property html_changer\EndingTag::$attributes is deprecated in
/var/www/html/worldnews/wp-content/plugins/automatic-internal-links-for-seo/vendor/friedolinfoerder/html-changer/src/HtmlChanger.php
on line
552
Deprecated
: Creation of dynamic property html_changer\EndingTag::$attributes is deprecated in
/var/www/html/worldnews/wp-content/plugins/automatic-internal-links-for-seo/vendor/friedolinfoerder/html-changer/src/HtmlChanger.php
on line
552
Deprecated
: Creation of dynamic property html_changer\EndingTag::$attributes is deprecated in
/var/www/html/worldnews/wp-content/plugins/automatic-internal-links-for-seo/vendor/friedolinfoerder/html-changer/src/HtmlChanger.php
on line
552
Deprecated
: Creation of dynamic property html_changer\EndingTag::$attributes is deprecated in
/var/www/html/worldnews/wp-content/plugins/automatic-internal-links-for-seo/vendor/friedolinfoerder/html-changer/src/HtmlChanger.php
on line
552
Deprecated
: Creation of dynamic property html_changer\EndingTag::$attributes is deprecated in
/var/www/html/worldnews/wp-content/plugins/automatic-internal-links-for-seo/vendor/friedolinfoerder/html-changer/src/HtmlChanger.php
on line
552
Deprecated
: Creation of dynamic property html_changer\EndingTag::$attributes is deprecated in
/var/www/html/worldnews/wp-content/plugins/automatic-internal-links-for-seo/vendor/friedolinfoerder/html-changer/src/HtmlChanger.php
on line
552
Deprecated
: Creation of dynamic property html_changer\EndingTag::$attributes is deprecated in
/var/www/html/worldnews/wp-content/plugins/automatic-internal-links-for-seo/vendor/friedolinfoerder/html-changer/src/HtmlChanger.php
on line
552
Deprecated
: Creation of dynamic property html_changer\EndingTag::$attributes is deprecated in
/var/www/html/worldnews/wp-content/plugins/automatic-internal-links-for-seo/vendor/friedolinfoerder/html-changer/src/HtmlChanger.php
on line
552
Deprecated
: Creation of dynamic property html_changer\EndingTag::$attributes is deprecated in
/var/www/html/worldnews/wp-content/plugins/automatic-internal-links-for-seo/vendor/friedolinfoerder/html-changer/src/HtmlChanger.php
on line
552
Deprecated
: Creation of dynamic property html_changer\EndingTag::$attributes is deprecated in
/var/www/html/worldnews/wp-content/plugins/automatic-internal-links-for-seo/vendor/friedolinfoerder/html-changer/src/HtmlChanger.php
on line
552
Deprecated
: Creation of dynamic property html_changer\EndingTag::$attributes is deprecated in
/var/www/html/worldnews/wp-content/plugins/automatic-internal-links-for-seo/vendor/friedolinfoerder/html-changer/src/HtmlChanger.php
on line
552
Deprecated
: Creation of dynamic property html_changer\EndingTag::$attributes is deprecated in
/var/www/html/worldnews/wp-content/plugins/automatic-internal-links-for-seo/vendor/friedolinfoerder/html-changer/src/HtmlChanger.php
on line
552
Deprecated
: Creation of dynamic property html_changer\EndingTag::$attributes is deprecated in
/var/www/html/worldnews/wp-content/plugins/automatic-internal-links-for-seo/vendor/friedolinfoerder/html-changer/src/HtmlChanger.php
on line
552
Deprecated
: Creation of dynamic property html_changer\EndingTag::$attributes is deprecated in
/var/www/html/worldnews/wp-content/plugins/automatic-internal-links-for-seo/vendor/friedolinfoerder/html-changer/src/HtmlChanger.php
on line
552
Deprecated
: Creation of dynamic property html_changer\EndingTag::$attributes is deprecated in
/var/www/html/worldnews/wp-content/plugins/automatic-internal-links-for-seo/vendor/friedolinfoerder/html-changer/src/HtmlChanger.php
on line
552
Deprecated
: Creation of dynamic property html_changer\EndingTag::$attributes is deprecated in
/var/www/html/worldnews/wp-content/plugins/automatic-internal-links-for-seo/vendor/friedolinfoerder/html-changer/src/HtmlChanger.php
on line
552
Deprecated
: Creation of dynamic property html_changer\EndingTag::$attributes is deprecated in
/var/www/html/worldnews/wp-content/plugins/automatic-internal-links-for-seo/vendor/friedolinfoerder/html-changer/src/HtmlChanger.php
on line
552
Deprecated
: Creation of dynamic property html_changer\EndingTag::$attributes is deprecated in
/var/www/html/worldnews/wp-content/plugins/automatic-internal-links-for-seo/vendor/friedolinfoerder/html-changer/src/HtmlChanger.php
on line
552
Deprecated
: Creation of dynamic property html_changer\EndingTag::$attributes is deprecated in
/var/www/html/worldnews/wp-content/plugins/automatic-internal-links-for-seo/vendor/friedolinfoerder/html-changer/src/HtmlChanger.php
on line
552
Deprecated
: Creation of dynamic property html_changer\EndingTag::$attributes is deprecated in
/var/www/html/worldnews/wp-content/plugins/automatic-internal-links-for-seo/vendor/friedolinfoerder/html-changer/src/HtmlChanger.php
on line
552
Deprecated
: Creation of dynamic property html_changer\EndingTag::$attributes is deprecated in
/var/www/html/worldnews/wp-content/plugins/automatic-internal-links-for-seo/vendor/friedolinfoerder/html-changer/src/HtmlChanger.php
on line
552
Deprecated
: Creation of dynamic property html_changer\EndingTag::$attributes is deprecated in
/var/www/html/worldnews/wp-content/plugins/automatic-internal-links-for-seo/vendor/friedolinfoerder/html-changer/src/HtmlChanger.php
on line
552
Deprecated
: Creation of dynamic property html_changer\EndingTag::$attributes is deprecated in
/var/www/html/worldnews/wp-content/plugins/automatic-internal-links-for-seo/vendor/friedolinfoerder/html-changer/src/HtmlChanger.php
on line
552
Deprecated
: Creation of dynamic property html_changer\EndingTag::$attributes is deprecated in
/var/www/html/worldnews/wp-content/plugins/automatic-internal-links-for-seo/vendor/friedolinfoerder/html-changer/src/HtmlChanger.php
on line
552
Deprecated
: Creation of dynamic property html_changer\EndingTag::$attributes is deprecated in
/var/www/html/worldnews/wp-content/plugins/automatic-internal-links-for-seo/vendor/friedolinfoerder/html-changer/src/HtmlChanger.php
on line
552
Deprecated
: Creation of dynamic property html_changer\EndingTag::$attributes is deprecated in
/var/www/html/worldnews/wp-content/plugins/automatic-internal-links-for-seo/vendor/friedolinfoerder/html-changer/src/HtmlChanger.php
on line
552
Deprecated
: Creation of dynamic property html_changer\EndingTag::$attributes is deprecated in
/var/www/html/worldnews/wp-content/plugins/automatic-internal-links-for-seo/vendor/friedolinfoerder/html-changer/src/HtmlChanger.php
on line
552
Deprecated
: Creation of dynamic property html_changer\EndingTag::$attributes is deprecated in
/var/www/html/worldnews/wp-content/plugins/automatic-internal-links-for-seo/vendor/friedolinfoerder/html-changer/src/HtmlChanger.php
on line
552
Deprecated
: Creation of dynamic property html_changer\EndingTag::$attributes is deprecated in
/var/www/html/worldnews/wp-content/plugins/automatic-internal-links-for-seo/vendor/friedolinfoerder/html-changer/src/HtmlChanger.php
on line
552
Deprecated
: Creation of dynamic property html_changer\EndingTag::$attributes is deprecated in
/var/www/html/worldnews/wp-content/plugins/automatic-internal-links-for-seo/vendor/friedolinfoerder/html-changer/src/HtmlChanger.php
on line
552
Deprecated
: Creation of dynamic property html_changer\EndingTag::$attributes is deprecated in
/var/www/html/worldnews/wp-content/plugins/automatic-internal-links-for-seo/vendor/friedolinfoerder/html-changer/src/HtmlChanger.php
on line
552
Deprecated
: Creation of dynamic property html_changer\EndingTag::$attributes is deprecated in
/var/www/html/worldnews/wp-content/plugins/automatic-internal-links-for-seo/vendor/friedolinfoerder/html-changer/src/HtmlChanger.php
on line
552
Deprecated
: Creation of dynamic property html_changer\EndingTag::$attributes is deprecated in
/var/www/html/worldnews/wp-content/plugins/automatic-internal-links-for-seo/vendor/friedolinfoerder/html-changer/src/HtmlChanger.php
on line
552
Deprecated
: Creation of dynamic property html_changer\EndingTag::$attributes is deprecated in
/var/www/html/worldnews/wp-content/plugins/automatic-internal-links-for-seo/vendor/friedolinfoerder/html-changer/src/HtmlChanger.php
on line
552
Deprecated
: Creation of dynamic property html_changer\EndingTag::$attributes is deprecated in
/var/www/html/worldnews/wp-content/plugins/automatic-internal-links-for-seo/vendor/friedolinfoerder/html-changer/src/HtmlChanger.php
on line
552
Deprecated
: Creation of dynamic property html_changer\EndingTag::$attributes is deprecated in
/var/www/html/worldnews/wp-content/plugins/automatic-internal-links-for-seo/vendor/friedolinfoerder/html-changer/src/HtmlChanger.php
on line
552
Deprecated
: Creation of dynamic property html_changer\EndingTag::$attributes is deprecated in
/var/www/html/worldnews/wp-content/plugins/automatic-internal-links-for-seo/vendor/friedolinfoerder/html-changer/src/HtmlChanger.php
on line
552
Deprecated
: Creation of dynamic property html_changer\EndingTag::$attributes is deprecated in
/var/www/html/worldnews/wp-content/plugins/automatic-internal-links-for-seo/vendor/friedolinfoerder/html-changer/src/HtmlChanger.php
on line
552
Deprecated
: Creation of dynamic property html_changer\EndingTag::$attributes is deprecated in
/var/www/html/worldnews/wp-content/plugins/automatic-internal-links-for-seo/vendor/friedolinfoerder/html-changer/src/HtmlChanger.php
on line
552
Deprecated
: Creation of dynamic property html_changer\EndingTag::$attributes is deprecated in
/var/www/html/worldnews/wp-content/plugins/automatic-internal-links-for-seo/vendor/friedolinfoerder/html-changer/src/HtmlChanger.php
on line
552
Deprecated
: Creation of dynamic property html_changer\EndingTag::$attributes is deprecated in
/var/www/html/worldnews/wp-content/plugins/automatic-internal-links-for-seo/vendor/friedolinfoerder/html-changer/src/HtmlChanger.php
on line
552
Deprecated
: Creation of dynamic property html_changer\EndingTag::$attributes is deprecated in
/var/www/html/worldnews/wp-content/plugins/automatic-internal-links-for-seo/vendor/friedolinfoerder/html-changer/src/HtmlChanger.php
on line
552
Deprecated
: Creation of dynamic property html_changer\EndingTag::$attributes is deprecated in
/var/www/html/worldnews/wp-content/plugins/automatic-internal-links-for-seo/vendor/friedolinfoerder/html-changer/src/HtmlChanger.php
on line
552
Deprecated
: Creation of dynamic property html_changer\EndingTag::$attributes is deprecated in
/var/www/html/worldnews/wp-content/plugins/automatic-internal-links-for-seo/vendor/friedolinfoerder/html-changer/src/HtmlChanger.php
on line
552
Deprecated
: Creation of dynamic property html_changer\EndingTag::$attributes is deprecated in
/var/www/html/worldnews/wp-content/plugins/automatic-internal-links-for-seo/vendor/friedolinfoerder/html-changer/src/HtmlChanger.php
on line
552
Deprecated
: Creation of dynamic property html_changer\EndingTag::$attributes is deprecated in
/var/www/html/worldnews/wp-content/plugins/automatic-internal-links-for-seo/vendor/friedolinfoerder/html-changer/src/HtmlChanger.php
on line
552
Deprecated
: Creation of dynamic property html_changer\EndingTag::$attributes is deprecated in
/var/www/html/worldnews/wp-content/plugins/automatic-internal-links-for-seo/vendor/friedolinfoerder/html-changer/src/HtmlChanger.php
on line
552
Deprecated
: Creation of dynamic property html_changer\EndingTag::$attributes is deprecated in
/var/www/html/worldnews/wp-content/plugins/automatic-internal-links-for-seo/vendor/friedolinfoerder/html-changer/src/HtmlChanger.php
on line
552
Deprecated
: Creation of dynamic property html_changer\EndingTag::$attributes is deprecated in
/var/www/html/worldnews/wp-content/plugins/automatic-internal-links-for-seo/vendor/friedolinfoerder/html-changer/src/HtmlChanger.php
on line
552
Deprecated
: Creation of dynamic property html_changer\EndingTag::$attributes is deprecated in
/var/www/html/worldnews/wp-content/plugins/automatic-internal-links-for-seo/vendor/friedolinfoerder/html-changer/src/HtmlChanger.php
on line
552
Deprecated
: Creation of dynamic property html_changer\EndingTag::$attributes is deprecated in
/var/www/html/worldnews/wp-content/plugins/automatic-internal-links-for-seo/vendor/friedolinfoerder/html-changer/src/HtmlChanger.php
on line
552
Deprecated
: Creation of dynamic property html_changer\EndingTag::$attributes is deprecated in
/var/www/html/worldnews/wp-content/plugins/automatic-internal-links-for-seo/vendor/friedolinfoerder/html-changer/src/HtmlChanger.php
on line
552
Deprecated
: Creation of dynamic property html_changer\EndingTag::$attributes is deprecated in
/var/www/html/worldnews/wp-content/plugins/automatic-internal-links-for-seo/vendor/friedolinfoerder/html-changer/src/HtmlChanger.php
on line
552
Deprecated
: Creation of dynamic property html_changer\EndingTag::$attributes is deprecated in
/var/www/html/worldnews/wp-content/plugins/automatic-internal-links-for-seo/vendor/friedolinfoerder/html-changer/src/HtmlChanger.php
on line
552
Deprecated
: Creation of dynamic property html_changer\EndingTag::$attributes is deprecated in
/var/www/html/worldnews/wp-content/plugins/automatic-internal-links-for-seo/vendor/friedolinfoerder/html-changer/src/HtmlChanger.php
on line
552
Deprecated
: Creation of dynamic property html_changer\EndingTag::$attributes is deprecated in
/var/www/html/worldnews/wp-content/plugins/automatic-internal-links-for-seo/vendor/friedolinfoerder/html-changer/src/HtmlChanger.php
on line
552
Deprecated
: Creation of dynamic property html_changer\EndingTag::$attributes is deprecated in
/var/www/html/worldnews/wp-content/plugins/automatic-internal-links-for-seo/vendor/friedolinfoerder/html-changer/src/HtmlChanger.php
on line
552
Deprecated
: Creation of dynamic property html_changer\EndingTag::$attributes is deprecated in
/var/www/html/worldnews/wp-content/plugins/automatic-internal-links-for-seo/vendor/friedolinfoerder/html-changer/src/HtmlChanger.php
on line
552
Deprecated
: Creation of dynamic property html_changer\EndingTag::$attributes is deprecated in
/var/www/html/worldnews/wp-content/plugins/automatic-internal-links-for-seo/vendor/friedolinfoerder/html-changer/src/HtmlChanger.php
on line
552
Deprecated
: Creation of dynamic property html_changer\EndingTag::$attributes is deprecated in
/var/www/html/worldnews/wp-content/plugins/automatic-internal-links-for-seo/vendor/friedolinfoerder/html-changer/src/HtmlChanger.php
on line
552
Deprecated
: Creation of dynamic property html_changer\EndingTag::$attributes is deprecated in
/var/www/html/worldnews/wp-content/plugins/automatic-internal-links-for-seo/vendor/friedolinfoerder/html-changer/src/HtmlChanger.php
on line
552
Deprecated
: Creation of dynamic property html_changer\EndingTag::$attributes is deprecated in
/var/www/html/worldnews/wp-content/plugins/automatic-internal-links-for-seo/vendor/friedolinfoerder/html-changer/src/HtmlChanger.php
on line
552
Deprecated
: Creation of dynamic property html_changer\EndingTag::$attributes is deprecated in
/var/www/html/worldnews/wp-content/plugins/automatic-internal-links-for-seo/vendor/friedolinfoerder/html-changer/src/HtmlChanger.php
on line
552
Deprecated
: Creation of dynamic property html_changer\EndingTag::$attributes is deprecated in
/var/www/html/worldnews/wp-content/plugins/automatic-internal-links-for-seo/vendor/friedolinfoerder/html-changer/src/HtmlChanger.php
on line
552
Deprecated
: Creation of dynamic property html_changer\EndingTag::$attributes is deprecated in
/var/www/html/worldnews/wp-content/plugins/automatic-internal-links-for-seo/vendor/friedolinfoerder/html-changer/src/HtmlChanger.php
on line
552
Deprecated
: Creation of dynamic property html_changer\EndingTag::$attributes is deprecated in
/var/www/html/worldnews/wp-content/plugins/automatic-internal-links-for-seo/vendor/friedolinfoerder/html-changer/src/HtmlChanger.php
on line
552
Deprecated
: Creation of dynamic property html_changer\EndingTag::$attributes is deprecated in
/var/www/html/worldnews/wp-content/plugins/automatic-internal-links-for-seo/vendor/friedolinfoerder/html-changer/src/HtmlChanger.php
on line
552
Deprecated
: Creation of dynamic property html_changer\EndingTag::$attributes is deprecated in
/var/www/html/worldnews/wp-content/plugins/automatic-internal-links-for-seo/vendor/friedolinfoerder/html-changer/src/HtmlChanger.php
on line
552
Deprecated
: Creation of dynamic property html_changer\EndingTag::$attributes is deprecated in
/var/www/html/worldnews/wp-content/plugins/automatic-internal-links-for-seo/vendor/friedolinfoerder/html-changer/src/HtmlChanger.php
on line
552
Deprecated
: Creation of dynamic property html_changer\EndingTag::$attributes is deprecated in
/var/www/html/worldnews/wp-content/plugins/automatic-internal-links-for-seo/vendor/friedolinfoerder/html-changer/src/HtmlChanger.php
on line
552
Deprecated
: Creation of dynamic property html_changer\EndingTag::$attributes is deprecated in
/var/www/html/worldnews/wp-content/plugins/automatic-internal-links-for-seo/vendor/friedolinfoerder/html-changer/src/HtmlChanger.php
on line
552
Deprecated
: Creation of dynamic property html_changer\EndingTag::$attributes is deprecated in
/var/www/html/worldnews/wp-content/plugins/automatic-internal-links-for-seo/vendor/friedolinfoerder/html-changer/src/HtmlChanger.php
on line
552
Deprecated
: Creation of dynamic property html_changer\EndingTag::$attributes is deprecated in
/var/www/html/worldnews/wp-content/plugins/automatic-internal-links-for-seo/vendor/friedolinfoerder/html-changer/src/HtmlChanger.php
on line
552
Deprecated
: Creation of dynamic property html_changer\EndingTag::$attributes is deprecated in
/var/www/html/worldnews/wp-content/plugins/automatic-internal-links-for-seo/vendor/friedolinfoerder/html-changer/src/HtmlChanger.php
on line
552
Deprecated
: Creation of dynamic property html_changer\EndingTag::$attributes is deprecated in
/var/www/html/worldnews/wp-content/plugins/automatic-internal-links-for-seo/vendor/friedolinfoerder/html-changer/src/HtmlChanger.php
on line
552
Deprecated
: Creation of dynamic property html_changer\EndingTag::$attributes is deprecated in
/var/www/html/worldnews/wp-content/plugins/automatic-internal-links-for-seo/vendor/friedolinfoerder/html-changer/src/HtmlChanger.php
on line
552
Deprecated
: Creation of dynamic property html_changer\EndingTag::$attributes is deprecated in
/var/www/html/worldnews/wp-content/plugins/automatic-internal-links-for-seo/vendor/friedolinfoerder/html-changer/src/HtmlChanger.php
on line
552
Deprecated
: Creation of dynamic property html_changer\EndingTag::$attributes is deprecated in
/var/www/html/worldnews/wp-content/plugins/automatic-internal-links-for-seo/vendor/friedolinfoerder/html-changer/src/HtmlChanger.php
on line
552
Deprecated
: Creation of dynamic property html_changer\EndingTag::$attributes is deprecated in
/var/www/html/worldnews/wp-content/plugins/automatic-internal-links-for-seo/vendor/friedolinfoerder/html-changer/src/HtmlChanger.php
on line
552
Deprecated
: Creation of dynamic property html_changer\EndingTag::$attributes is deprecated in
/var/www/html/worldnews/wp-content/plugins/automatic-internal-links-for-seo/vendor/friedolinfoerder/html-changer/src/HtmlChanger.php
on line
552
Deprecated
: Creation of dynamic property html_changer\EndingTag::$attributes is deprecated in
/var/www/html/worldnews/wp-content/plugins/automatic-internal-links-for-seo/vendor/friedolinfoerder/html-changer/src/HtmlChanger.php
on line
552
Deprecated
: Creation of dynamic property html_changer\EndingTag::$attributes is deprecated in
/var/www/html/worldnews/wp-content/plugins/automatic-internal-links-for-seo/vendor/friedolinfoerder/html-changer/src/HtmlChanger.php
on line
552
Deprecated
: Creation of dynamic property html_changer\EndingTag::$attributes is deprecated in
/var/www/html/worldnews/wp-content/plugins/automatic-internal-links-for-seo/vendor/friedolinfoerder/html-changer/src/HtmlChanger.php
on line
552
Deprecated
: Creation of dynamic property html_changer\EndingTag::$attributes is deprecated in
/var/www/html/worldnews/wp-content/plugins/automatic-internal-links-for-seo/vendor/friedolinfoerder/html-changer/src/HtmlChanger.php
on line
552
Deprecated
: Creation of dynamic property html_changer\EndingTag::$attributes is deprecated in
/var/www/html/worldnews/wp-content/plugins/automatic-internal-links-for-seo/vendor/friedolinfoerder/html-changer/src/HtmlChanger.php
on line
552
Deprecated
: Creation of dynamic property html_changer\EndingTag::$attributes is deprecated in
/var/www/html/worldnews/wp-content/plugins/automatic-internal-links-for-seo/vendor/friedolinfoerder/html-changer/src/HtmlChanger.php
on line
552
Deprecated
: Creation of dynamic property html_changer\EndingTag::$attributes is deprecated in
/var/www/html/worldnews/wp-content/plugins/automatic-internal-links-for-seo/vendor/friedolinfoerder/html-changer/src/HtmlChanger.php
on line
552
Deprecated
: Creation of dynamic property html_changer\EndingTag::$attributes is deprecated in
/var/www/html/worldnews/wp-content/plugins/automatic-internal-links-for-seo/vendor/friedolinfoerder/html-changer/src/HtmlChanger.php
on line
552
Deprecated
: Creation of dynamic property html_changer\EndingTag::$attributes is deprecated in
/var/www/html/worldnews/wp-content/plugins/automatic-internal-links-for-seo/vendor/friedolinfoerder/html-changer/src/HtmlChanger.php
on line
552
Deprecated
: Creation of dynamic property html_changer\EndingTag::$attributes is deprecated in
/var/www/html/worldnews/wp-content/plugins/automatic-internal-links-for-seo/vendor/friedolinfoerder/html-changer/src/HtmlChanger.php
on line
552
Deprecated
: Creation of dynamic property html_changer\EndingTag::$attributes is deprecated in
/var/www/html/worldnews/wp-content/plugins/automatic-internal-links-for-seo/vendor/friedolinfoerder/html-changer/src/HtmlChanger.php
on line
552
Deprecated
: Creation of dynamic property html_changer\EndingTag::$attributes is deprecated in
/var/www/html/worldnews/wp-content/plugins/automatic-internal-links-for-seo/vendor/friedolinfoerder/html-changer/src/HtmlChanger.php
on line
552
Deprecated
: Creation of dynamic property html_changer\EndingTag::$attributes is deprecated in
/var/www/html/worldnews/wp-content/plugins/automatic-internal-links-for-seo/vendor/friedolinfoerder/html-changer/src/HtmlChanger.php
on line
552
Deprecated
: Creation of dynamic property html_changer\EndingTag::$attributes is deprecated in
/var/www/html/worldnews/wp-content/plugins/automatic-internal-links-for-seo/vendor/friedolinfoerder/html-changer/src/HtmlChanger.php
on line
552
Deprecated
: Creation of dynamic property html_changer\EndingTag::$attributes is deprecated in
/var/www/html/worldnews/wp-content/plugins/automatic-internal-links-for-seo/vendor/friedolinfoerder/html-changer/src/HtmlChanger.php
on line
552
Deprecated
: Creation of dynamic property html_changer\EndingTag::$attributes is deprecated in
/var/www/html/worldnews/wp-content/plugins/automatic-internal-links-for-seo/vendor/friedolinfoerder/html-changer/src/HtmlChanger.php
on line
552
Deprecated
: Creation of dynamic property html_changer\EndingTag::$attributes is deprecated in
/var/www/html/worldnews/wp-content/plugins/automatic-internal-links-for-seo/vendor/friedolinfoerder/html-changer/src/HtmlChanger.php
on line
552
Deprecated
: Creation of dynamic property html_changer\EndingTag::$attributes is deprecated in
/var/www/html/worldnews/wp-content/plugins/automatic-internal-links-for-seo/vendor/friedolinfoerder/html-changer/src/HtmlChanger.php
on line
552
Deprecated
: Creation of dynamic property html_changer\EndingTag::$attributes is deprecated in
/var/www/html/worldnews/wp-content/plugins/automatic-internal-links-for-seo/vendor/friedolinfoerder/html-changer/src/HtmlChanger.php
on line
552
Deprecated
: Creation of dynamic property html_changer\EndingTag::$attributes is deprecated in
/var/www/html/worldnews/wp-content/plugins/automatic-internal-links-for-seo/vendor/friedolinfoerder/html-changer/src/HtmlChanger.php
on line
552
Deprecated
: Creation of dynamic property html_changer\EndingTag::$attributes is deprecated in
/var/www/html/worldnews/wp-content/plugins/automatic-internal-links-for-seo/vendor/friedolinfoerder/html-changer/src/HtmlChanger.php
on line
552
Deprecated
: Creation of dynamic property html_changer\EndingTag::$attributes is deprecated in
/var/www/html/worldnews/wp-content/plugins/automatic-internal-links-for-seo/vendor/friedolinfoerder/html-changer/src/HtmlChanger.php
on line
552
Deprecated
: Creation of dynamic property html_changer\EndingTag::$attributes is deprecated in
/var/www/html/worldnews/wp-content/plugins/automatic-internal-links-for-seo/vendor/friedolinfoerder/html-changer/src/HtmlChanger.php
on line
552
Deprecated
: Creation of dynamic property html_changer\EndingTag::$attributes is deprecated in
/var/www/html/worldnews/wp-content/plugins/automatic-internal-links-for-seo/vendor/friedolinfoerder/html-changer/src/HtmlChanger.php
on line
552
Deprecated
: Creation of dynamic property html_changer\EndingTag::$attributes is deprecated in
/var/www/html/worldnews/wp-content/plugins/automatic-internal-links-for-seo/vendor/friedolinfoerder/html-changer/src/HtmlChanger.php
on line
552
Deprecated
: Creation of dynamic property html_changer\EndingTag::$attributes is deprecated in
/var/www/html/worldnews/wp-content/plugins/automatic-internal-links-for-seo/vendor/friedolinfoerder/html-changer/src/HtmlChanger.php
on line
552
Deprecated
: Creation of dynamic property html_changer\EndingTag::$attributes is deprecated in
/var/www/html/worldnews/wp-content/plugins/automatic-internal-links-for-seo/vendor/friedolinfoerder/html-changer/src/HtmlChanger.php
on line
552
Deprecated
: Creation of dynamic property html_changer\EndingTag::$attributes is deprecated in
/var/www/html/worldnews/wp-content/plugins/automatic-internal-links-for-seo/vendor/friedolinfoerder/html-changer/src/HtmlChanger.php
on line
552
Deprecated
: Creation of dynamic property html_changer\EndingTag::$attributes is deprecated in
/var/www/html/worldnews/wp-content/plugins/automatic-internal-links-for-seo/vendor/friedolinfoerder/html-changer/src/HtmlChanger.php
on line
552
Deprecated
: Creation of dynamic property html_changer\EndingTag::$attributes is deprecated in
/var/www/html/worldnews/wp-content/plugins/automatic-internal-links-for-seo/vendor/friedolinfoerder/html-changer/src/HtmlChanger.php
on line
552
Deprecated
: Creation of dynamic property html_changer\EndingTag::$attributes is deprecated in
/var/www/html/worldnews/wp-content/plugins/automatic-internal-links-for-seo/vendor/friedolinfoerder/html-changer/src/HtmlChanger.php
on line
552
Deprecated
: Creation of dynamic property html_changer\EndingTag::$attributes is deprecated in
/var/www/html/worldnews/wp-content/plugins/automatic-internal-links-for-seo/vendor/friedolinfoerder/html-changer/src/HtmlChanger.php
on line
552
Deprecated
: Creation of dynamic property html_changer\EndingTag::$attributes is deprecated in
/var/www/html/worldnews/wp-content/plugins/automatic-internal-links-for-seo/vendor/friedolinfoerder/html-changer/src/HtmlChanger.php
on line
552
Deprecated
: Creation of dynamic property html_changer\EndingTag::$attributes is deprecated in
/var/www/html/worldnews/wp-content/plugins/automatic-internal-links-for-seo/vendor/friedolinfoerder/html-changer/src/HtmlChanger.php
on line
552
Deprecated
: Creation of dynamic property html_changer\EndingTag::$attributes is deprecated in
/var/www/html/worldnews/wp-content/plugins/automatic-internal-links-for-seo/vendor/friedolinfoerder/html-changer/src/HtmlChanger.php
on line
552
Deprecated
: Creation of dynamic property html_changer\EndingTag::$attributes is deprecated in
/var/www/html/worldnews/wp-content/plugins/automatic-internal-links-for-seo/vendor/friedolinfoerder/html-changer/src/HtmlChanger.php
on line
552
Deprecated
: Creation of dynamic property html_changer\EndingTag::$attributes is deprecated in
/var/www/html/worldnews/wp-content/plugins/automatic-internal-links-for-seo/vendor/friedolinfoerder/html-changer/src/HtmlChanger.php
on line
552
Deprecated
: Creation of dynamic property html_changer\EndingTag::$attributes is deprecated in
/var/www/html/worldnews/wp-content/plugins/automatic-internal-links-for-seo/vendor/friedolinfoerder/html-changer/src/HtmlChanger.php
on line
552
Deprecated
: Creation of dynamic property html_changer\EndingTag::$attributes is deprecated in
/var/www/html/worldnews/wp-content/plugins/automatic-internal-links-for-seo/vendor/friedolinfoerder/html-changer/src/HtmlChanger.php
on line
552
Deprecated
: Creation of dynamic property html_changer\EndingTag::$attributes is deprecated in
/var/www/html/worldnews/wp-content/plugins/automatic-internal-links-for-seo/vendor/friedolinfoerder/html-changer/src/HtmlChanger.php
on line
552
Deprecated
: Creation of dynamic property html_changer\EndingTag::$attributes is deprecated in
/var/www/html/worldnews/wp-content/plugins/automatic-internal-links-for-seo/vendor/friedolinfoerder/html-changer/src/HtmlChanger.php
on line
552
Deprecated
: Creation of dynamic property html_changer\EndingTag::$attributes is deprecated in
/var/www/html/worldnews/wp-content/plugins/automatic-internal-links-for-seo/vendor/friedolinfoerder/html-changer/src/HtmlChanger.php
on line
552
Deprecated
: Creation of dynamic property html_changer\EndingTag::$attributes is deprecated in
/var/www/html/worldnews/wp-content/plugins/automatic-internal-links-for-seo/vendor/friedolinfoerder/html-changer/src/HtmlChanger.php
on line
552
Deprecated
: Creation of dynamic property html_changer\EndingTag::$attributes is deprecated in
/var/www/html/worldnews/wp-content/plugins/automatic-internal-links-for-seo/vendor/friedolinfoerder/html-changer/src/HtmlChanger.php
on line
552
Deprecated
: Creation of dynamic property html_changer\EndingTag::$attributes is deprecated in
/var/www/html/worldnews/wp-content/plugins/automatic-internal-links-for-seo/vendor/friedolinfoerder/html-changer/src/HtmlChanger.php
on line
552
Deprecated
: Creation of dynamic property html_changer\EndingTag::$attributes is deprecated in
/var/www/html/worldnews/wp-content/plugins/automatic-internal-links-for-seo/vendor/friedolinfoerder/html-changer/src/HtmlChanger.php
on line
552
Deprecated
: Creation of dynamic property html_changer\EndingTag::$attributes is deprecated in
/var/www/html/worldnews/wp-content/plugins/automatic-internal-links-for-seo/vendor/friedolinfoerder/html-changer/src/HtmlChanger.php
on line
552
Deprecated
: Creation of dynamic property html_changer\EndingTag::$attributes is deprecated in
/var/www/html/worldnews/wp-content/plugins/automatic-internal-links-for-seo/vendor/friedolinfoerder/html-changer/src/HtmlChanger.php
on line
552
Deprecated
: Creation of dynamic property html_changer\EndingTag::$attributes is deprecated in
/var/www/html/worldnews/wp-content/plugins/automatic-internal-links-for-seo/vendor/friedolinfoerder/html-changer/src/HtmlChanger.php
on line
552
Deprecated
: Creation of dynamic property html_changer\EndingTag::$attributes is deprecated in
/var/www/html/worldnews/wp-content/plugins/automatic-internal-links-for-seo/vendor/friedolinfoerder/html-changer/src/HtmlChanger.php
on line
552
Deprecated
: Creation of dynamic property html_changer\EndingTag::$attributes is deprecated in
/var/www/html/worldnews/wp-content/plugins/automatic-internal-links-for-seo/vendor/friedolinfoerder/html-changer/src/HtmlChanger.php
on line
552
Deprecated
: Creation of dynamic property html_changer\EndingTag::$attributes is deprecated in
/var/www/html/worldnews/wp-content/plugins/automatic-internal-links-for-seo/vendor/friedolinfoerder/html-changer/src/HtmlChanger.php
on line
552
Deprecated
: Creation of dynamic property html_changer\EndingTag::$attributes is deprecated in
/var/www/html/worldnews/wp-content/plugins/automatic-internal-links-for-seo/vendor/friedolinfoerder/html-changer/src/HtmlChanger.php
on line
552
Deprecated
: Creation of dynamic property html_changer\EndingTag::$attributes is deprecated in
/var/www/html/worldnews/wp-content/plugins/automatic-internal-links-for-seo/vendor/friedolinfoerder/html-changer/src/HtmlChanger.php
on line
552
Deprecated
: Creation of dynamic property html_changer\EndingTag::$attributes is deprecated in
/var/www/html/worldnews/wp-content/plugins/automatic-internal-links-for-seo/vendor/friedolinfoerder/html-changer/src/HtmlChanger.php
on line
552
Deprecated
: Creation of dynamic property html_changer\EndingTag::$attributes is deprecated in
/var/www/html/worldnews/wp-content/plugins/automatic-internal-links-for-seo/vendor/friedolinfoerder/html-changer/src/HtmlChanger.php
on line
552
Deprecated
: Creation of dynamic property html_changer\EndingTag::$attributes is deprecated in
/var/www/html/worldnews/wp-content/plugins/automatic-internal-links-for-seo/vendor/friedolinfoerder/html-changer/src/HtmlChanger.php
on line
552
Deprecated
: Creation of dynamic property html_changer\EndingTag::$attributes is deprecated in
/var/www/html/worldnews/wp-content/plugins/automatic-internal-links-for-seo/vendor/friedolinfoerder/html-changer/src/HtmlChanger.php
on line
552
Deprecated
: Creation of dynamic property html_changer\EndingTag::$attributes is deprecated in
/var/www/html/worldnews/wp-content/plugins/automatic-internal-links-for-seo/vendor/friedolinfoerder/html-changer/src/HtmlChanger.php
on line
552
Deprecated
: Creation of dynamic property html_changer\EndingTag::$attributes is deprecated in
/var/www/html/worldnews/wp-content/plugins/automatic-internal-links-for-seo/vendor/friedolinfoerder/html-changer/src/HtmlChanger.php
on line
552
Deprecated
: Creation of dynamic property html_changer\EndingTag::$attributes is deprecated in
/var/www/html/worldnews/wp-content/plugins/automatic-internal-links-for-seo/vendor/friedolinfoerder/html-changer/src/HtmlChanger.php
on line
552
Deprecated
: Creation of dynamic property html_changer\EndingTag::$attributes is deprecated in
/var/www/html/worldnews/wp-content/plugins/automatic-internal-links-for-seo/vendor/friedolinfoerder/html-changer/src/HtmlChanger.php
on line
552
Deprecated
: Creation of dynamic property html_changer\EndingTag::$attributes is deprecated in
/var/www/html/worldnews/wp-content/plugins/automatic-internal-links-for-seo/vendor/friedolinfoerder/html-changer/src/HtmlChanger.php
on line
552
Deprecated
: Creation of dynamic property html_changer\EndingTag::$attributes is deprecated in
/var/www/html/worldnews/wp-content/plugins/automatic-internal-links-for-seo/vendor/friedolinfoerder/html-changer/src/HtmlChanger.php
on line
552
Deprecated
: Creation of dynamic property html_changer\EndingTag::$attributes is deprecated in
/var/www/html/worldnews/wp-content/plugins/automatic-internal-links-for-seo/vendor/friedolinfoerder/html-changer/src/HtmlChanger.php
on line
552
Deprecated
: Creation of dynamic property html_changer\EndingTag::$attributes is deprecated in
/var/www/html/worldnews/wp-content/plugins/automatic-internal-links-for-seo/vendor/friedolinfoerder/html-changer/src/HtmlChanger.php
on line
552
Deprecated
: Creation of dynamic property html_changer\EndingTag::$attributes is deprecated in
/var/www/html/worldnews/wp-content/plugins/automatic-internal-links-for-seo/vendor/friedolinfoerder/html-changer/src/HtmlChanger.php
on line
552
Deprecated
: Creation of dynamic property html_changer\EndingTag::$attributes is deprecated in
/var/www/html/worldnews/wp-content/plugins/automatic-internal-links-for-seo/vendor/friedolinfoerder/html-changer/src/HtmlChanger.php
on line
552
Deprecated
: Creation of dynamic property html_changer\EndingTag::$attributes is deprecated in
/var/www/html/worldnews/wp-content/plugins/automatic-internal-links-for-seo/vendor/friedolinfoerder/html-changer/src/HtmlChanger.php
on line
552
Deprecated
: Creation of dynamic property html_changer\EndingTag::$attributes is deprecated in
/var/www/html/worldnews/wp-content/plugins/automatic-internal-links-for-seo/vendor/friedolinfoerder/html-changer/src/HtmlChanger.php
on line
552
Deprecated
: Creation of dynamic property html_changer\EndingTag::$attributes is deprecated in
/var/www/html/worldnews/wp-content/plugins/automatic-internal-links-for-seo/vendor/friedolinfoerder/html-changer/src/HtmlChanger.php
on line
552
Deprecated
: Creation of dynamic property html_changer\EndingTag::$attributes is deprecated in
/var/www/html/worldnews/wp-content/plugins/automatic-internal-links-for-seo/vendor/friedolinfoerder/html-changer/src/HtmlChanger.php
on line
552
Deprecated
: Creation of dynamic property html_changer\EndingTag::$attributes is deprecated in
/var/www/html/worldnews/wp-content/plugins/automatic-internal-links-for-seo/vendor/friedolinfoerder/html-changer/src/HtmlChanger.php
on line
552
Deprecated
: Creation of dynamic property html_changer\EndingTag::$attributes is deprecated in
/var/www/html/worldnews/wp-content/plugins/automatic-internal-links-for-seo/vendor/friedolinfoerder/html-changer/src/HtmlChanger.php
on line
552
Deprecated
: Creation of dynamic property html_changer\EndingTag::$attributes is deprecated in
/var/www/html/worldnews/wp-content/plugins/automatic-internal-links-for-seo/vendor/friedolinfoerder/html-changer/src/HtmlChanger.php
on line
552
Deprecated
: Creation of dynamic property html_changer\EndingTag::$attributes is deprecated in
/var/www/html/worldnews/wp-content/plugins/automatic-internal-links-for-seo/vendor/friedolinfoerder/html-changer/src/HtmlChanger.php
on line
552
Deprecated
: Creation of dynamic property html_changer\EndingTag::$attributes is deprecated in
/var/www/html/worldnews/wp-content/plugins/automatic-internal-links-for-seo/vendor/friedolinfoerder/html-changer/src/HtmlChanger.php
on line
552
Deprecated
: Creation of dynamic property html_changer\EndingTag::$attributes is deprecated in
/var/www/html/worldnews/wp-content/plugins/automatic-internal-links-for-seo/vendor/friedolinfoerder/html-changer/src/HtmlChanger.php
on line
552
Deprecated
: Creation of dynamic property html_changer\EndingTag::$attributes is deprecated in
/var/www/html/worldnews/wp-content/plugins/automatic-internal-links-for-seo/vendor/friedolinfoerder/html-changer/src/HtmlChanger.php
on line
552
Deprecated
: Creation of dynamic property html_changer\EndingTag::$attributes is deprecated in
/var/www/html/worldnews/wp-content/plugins/automatic-internal-links-for-seo/vendor/friedolinfoerder/html-changer/src/HtmlChanger.php
on line
552
Deprecated
: Creation of dynamic property html_changer\EndingTag::$attributes is deprecated in
/var/www/html/worldnews/wp-content/plugins/automatic-internal-links-for-seo/vendor/friedolinfoerder/html-changer/src/HtmlChanger.php
on line
552
Deprecated
: Creation of dynamic property html_changer\EndingTag::$attributes is deprecated in
/var/www/html/worldnews/wp-content/plugins/automatic-internal-links-for-seo/vendor/friedolinfoerder/html-changer/src/HtmlChanger.php
on line
552
Deprecated
: Creation of dynamic property html_changer\EndingTag::$attributes is deprecated in
/var/www/html/worldnews/wp-content/plugins/automatic-internal-links-for-seo/vendor/friedolinfoerder/html-changer/src/HtmlChanger.php
on line
552
Deprecated
: Creation of dynamic property html_changer\EndingTag::$attributes is deprecated in
/var/www/html/worldnews/wp-content/plugins/automatic-internal-links-for-seo/vendor/friedolinfoerder/html-changer/src/HtmlChanger.php
on line
552
Deprecated
: Creation of dynamic property html_changer\EndingTag::$attributes is deprecated in
/var/www/html/worldnews/wp-content/plugins/automatic-internal-links-for-seo/vendor/friedolinfoerder/html-changer/src/HtmlChanger.php
on line
552
Deprecated
: Creation of dynamic property html_changer\EndingTag::$attributes is deprecated in
/var/www/html/worldnews/wp-content/plugins/automatic-internal-links-for-seo/vendor/friedolinfoerder/html-changer/src/HtmlChanger.php
on line
552
Deprecated
: Creation of dynamic property html_changer\EndingTag::$attributes is deprecated in
/var/www/html/worldnews/wp-content/plugins/automatic-internal-links-for-seo/vendor/friedolinfoerder/html-changer/src/HtmlChanger.php
on line
552
Deprecated
: Creation of dynamic property html_changer\EndingTag::$attributes is deprecated in
/var/www/html/worldnews/wp-content/plugins/automatic-internal-links-for-seo/vendor/friedolinfoerder/html-changer/src/HtmlChanger.php
on line
552
Deprecated
: Creation of dynamic property html_changer\EndingTag::$attributes is deprecated in
/var/www/html/worldnews/wp-content/plugins/automatic-internal-links-for-seo/vendor/friedolinfoerder/html-changer/src/HtmlChanger.php
on line
552
Deprecated
: Creation of dynamic property html_changer\EndingTag::$attributes is deprecated in
/var/www/html/worldnews/wp-content/plugins/automatic-internal-links-for-seo/vendor/friedolinfoerder/html-changer/src/HtmlChanger.php
on line
552
Deprecated
: Creation of dynamic property html_changer\EndingTag::$attributes is deprecated in
/var/www/html/worldnews/wp-content/plugins/automatic-internal-links-for-seo/vendor/friedolinfoerder/html-changer/src/HtmlChanger.php
on line
552
Deprecated
: Creation of dynamic property html_changer\EndingTag::$attributes is deprecated in
/var/www/html/worldnews/wp-content/plugins/automatic-internal-links-for-seo/vendor/friedolinfoerder/html-changer/src/HtmlChanger.php
on line
552
Deprecated
: Creation of dynamic property html_changer\EndingTag::$attributes is deprecated in
/var/www/html/worldnews/wp-content/plugins/automatic-internal-links-for-seo/vendor/friedolinfoerder/html-changer/src/HtmlChanger.php
on line
552
Deprecated
: Creation of dynamic property html_changer\EndingTag::$attributes is deprecated in
/var/www/html/worldnews/wp-content/plugins/automatic-internal-links-for-seo/vendor/friedolinfoerder/html-changer/src/HtmlChanger.php
on line
552
Deprecated
: Creation of dynamic property html_changer\EndingTag::$attributes is deprecated in
/var/www/html/worldnews/wp-content/plugins/automatic-internal-links-for-seo/vendor/friedolinfoerder/html-changer/src/HtmlChanger.php
on line
552
Deprecated
: Creation of dynamic property html_changer\EndingTag::$attributes is deprecated in
/var/www/html/worldnews/wp-content/plugins/automatic-internal-links-for-seo/vendor/friedolinfoerder/html-changer/src/HtmlChanger.php
on line
552
Deprecated
: Creation of dynamic property html_changer\EndingTag::$attributes is deprecated in
/var/www/html/worldnews/wp-content/plugins/automatic-internal-links-for-seo/vendor/friedolinfoerder/html-changer/src/HtmlChanger.php
on line
552
Deprecated
: Creation of dynamic property html_changer\EndingTag::$attributes is deprecated in
/var/www/html/worldnews/wp-content/plugins/automatic-internal-links-for-seo/vendor/friedolinfoerder/html-changer/src/HtmlChanger.php
on line
552
Deprecated
: Creation of dynamic property html_changer\EndingTag::$attributes is deprecated in
/var/www/html/worldnews/wp-content/plugins/automatic-internal-links-for-seo/vendor/friedolinfoerder/html-changer/src/HtmlChanger.php
on line
552
Deprecated
: Creation of dynamic property html_changer\EndingTag::$attributes is deprecated in
/var/www/html/worldnews/wp-content/plugins/automatic-internal-links-for-seo/vendor/friedolinfoerder/html-changer/src/HtmlChanger.php
on line
552
Deprecated
: Creation of dynamic property html_changer\EndingTag::$attributes is deprecated in
/var/www/html/worldnews/wp-content/plugins/automatic-internal-links-for-seo/vendor/friedolinfoerder/html-changer/src/HtmlChanger.php
on line
552
Deprecated
: Creation of dynamic property html_changer\EndingTag::$attributes is deprecated in
/var/www/html/worldnews/wp-content/plugins/automatic-internal-links-for-seo/vendor/friedolinfoerder/html-changer/src/HtmlChanger.php
on line
552
Deprecated
: Creation of dynamic property html_changer\EndingTag::$attributes is deprecated in
/var/www/html/worldnews/wp-content/plugins/automatic-internal-links-for-seo/vendor/friedolinfoerder/html-changer/src/HtmlChanger.php
on line
552
Deprecated
: Creation of dynamic property html_changer\EndingTag::$attributes is deprecated in
/var/www/html/worldnews/wp-content/plugins/automatic-internal-links-for-seo/vendor/friedolinfoerder/html-changer/src/HtmlChanger.php
on line
552
Deprecated
: Creation of dynamic property html_changer\EndingTag::$attributes is deprecated in
/var/www/html/worldnews/wp-content/plugins/automatic-internal-links-for-seo/vendor/friedolinfoerder/html-changer/src/HtmlChanger.php
on line
552
Deprecated
: Creation of dynamic property html_changer\EndingTag::$attributes is deprecated in
/var/www/html/worldnews/wp-content/plugins/automatic-internal-links-for-seo/vendor/friedolinfoerder/html-changer/src/HtmlChanger.php
on line
552
Deprecated
: Creation of dynamic property html_changer\EndingTag::$attributes is deprecated in
/var/www/html/worldnews/wp-content/plugins/automatic-internal-links-for-seo/vendor/friedolinfoerder/html-changer/src/HtmlChanger.php
on line
552
Deprecated
: Creation of dynamic property html_changer\EndingTag::$attributes is deprecated in
/var/www/html/worldnews/wp-content/plugins/automatic-internal-links-for-seo/vendor/friedolinfoerder/html-changer/src/HtmlChanger.php
on line
552
Deprecated
: Creation of dynamic property html_changer\EndingTag::$attributes is deprecated in
/var/www/html/worldnews/wp-content/plugins/automatic-internal-links-for-seo/vendor/friedolinfoerder/html-changer/src/HtmlChanger.php
on line
552
Deprecated
: Creation of dynamic property html_changer\EndingTag::$attributes is deprecated in
/var/www/html/worldnews/wp-content/plugins/automatic-internal-links-for-seo/vendor/friedolinfoerder/html-changer/src/HtmlChanger.php
on line
552
Deprecated
: Creation of dynamic property html_changer\EndingTag::$attributes is deprecated in
/var/www/html/worldnews/wp-content/plugins/automatic-internal-links-for-seo/vendor/friedolinfoerder/html-changer/src/HtmlChanger.php
on line
552
Deprecated
: Creation of dynamic property html_changer\EndingTag::$attributes is deprecated in
/var/www/html/worldnews/wp-content/plugins/automatic-internal-links-for-seo/vendor/friedolinfoerder/html-changer/src/HtmlChanger.php
on line
552
Deprecated
: Creation of dynamic property html_changer\EndingTag::$attributes is deprecated in
/var/www/html/worldnews/wp-content/plugins/automatic-internal-links-for-seo/vendor/friedolinfoerder/html-changer/src/HtmlChanger.php
on line
552
Deprecated
: Creation of dynamic property html_changer\EndingTag::$attributes is deprecated in
/var/www/html/worldnews/wp-content/plugins/automatic-internal-links-for-seo/vendor/friedolinfoerder/html-changer/src/HtmlChanger.php
on line
552
Deprecated
: Creation of dynamic property html_changer\EndingTag::$attributes is deprecated in
/var/www/html/worldnews/wp-content/plugins/automatic-internal-links-for-seo/vendor/friedolinfoerder/html-changer/src/HtmlChanger.php
on line
552
Deprecated
: Creation of dynamic property html_changer\EndingTag::$attributes is deprecated in
/var/www/html/worldnews/wp-content/plugins/automatic-internal-links-for-seo/vendor/friedolinfoerder/html-changer/src/HtmlChanger.php
on line
552
Deprecated
: Creation of dynamic property html_changer\EndingTag::$attributes is deprecated in
/var/www/html/worldnews/wp-content/plugins/automatic-internal-links-for-seo/vendor/friedolinfoerder/html-changer/src/HtmlChanger.php
on line
552
Deprecated
: Creation of dynamic property html_changer\EndingTag::$attributes is deprecated in
/var/www/html/worldnews/wp-content/plugins/automatic-internal-links-for-seo/vendor/friedolinfoerder/html-changer/src/HtmlChanger.php
on line
552
Deprecated
: Creation of dynamic property html_changer\EndingTag::$attributes is deprecated in
/var/www/html/worldnews/wp-content/plugins/automatic-internal-links-for-seo/vendor/friedolinfoerder/html-changer/src/HtmlChanger.php
on line
552
Deprecated
: Creation of dynamic property html_changer\EndingTag::$attributes is deprecated in
/var/www/html/worldnews/wp-content/plugins/automatic-internal-links-for-seo/vendor/friedolinfoerder/html-changer/src/HtmlChanger.php
on line
552
Deprecated
: Creation of dynamic property html_changer\EndingTag::$attributes is deprecated in
/var/www/html/worldnews/wp-content/plugins/automatic-internal-links-for-seo/vendor/friedolinfoerder/html-changer/src/HtmlChanger.php
on line
552
Deprecated
: Creation of dynamic property html_changer\EndingTag::$attributes is deprecated in
/var/www/html/worldnews/wp-content/plugins/automatic-internal-links-for-seo/vendor/friedolinfoerder/html-changer/src/HtmlChanger.php
on line
552
Deprecated
: Creation of dynamic property html_changer\EndingTag::$attributes is deprecated in
/var/www/html/worldnews/wp-content/plugins/automatic-internal-links-for-seo/vendor/friedolinfoerder/html-changer/src/HtmlChanger.php
on line
552
Deprecated
: Creation of dynamic property html_changer\EndingTag::$attributes is deprecated in
/var/www/html/worldnews/wp-content/plugins/automatic-internal-links-for-seo/vendor/friedolinfoerder/html-changer/src/HtmlChanger.php
on line
552
Deprecated
: Creation of dynamic property html_changer\EndingTag::$attributes is deprecated in
/var/www/html/worldnews/wp-content/plugins/automatic-internal-links-for-seo/vendor/friedolinfoerder/html-changer/src/HtmlChanger.php
on line
552
Deprecated
: Creation of dynamic property html_changer\EndingTag::$attributes is deprecated in
/var/www/html/worldnews/wp-content/plugins/automatic-internal-links-for-seo/vendor/friedolinfoerder/html-changer/src/HtmlChanger.php
on line
552
Deprecated
: Creation of dynamic property html_changer\EndingTag::$attributes is deprecated in
/var/www/html/worldnews/wp-content/plugins/automatic-internal-links-for-seo/vendor/friedolinfoerder/html-changer/src/HtmlChanger.php
on line
552
Deprecated
: Creation of dynamic property html_changer\EndingTag::$attributes is deprecated in
/var/www/html/worldnews/wp-content/plugins/automatic-internal-links-for-seo/vendor/friedolinfoerder/html-changer/src/HtmlChanger.php
on line
552
Deprecated
: Creation of dynamic property html_changer\EndingTag::$attributes is deprecated in
/var/www/html/worldnews/wp-content/plugins/automatic-internal-links-for-seo/vendor/friedolinfoerder/html-changer/src/HtmlChanger.php
on line
552
Deprecated
: Creation of dynamic property html_changer\EndingTag::$attributes is deprecated in
/var/www/html/worldnews/wp-content/plugins/automatic-internal-links-for-seo/vendor/friedolinfoerder/html-changer/src/HtmlChanger.php
on line
552
Deprecated
: Creation of dynamic property html_changer\EndingTag::$attributes is deprecated in
/var/www/html/worldnews/wp-content/plugins/automatic-internal-links-for-seo/vendor/friedolinfoerder/html-changer/src/HtmlChanger.php
on line
552
Deprecated
: Creation of dynamic property html_changer\EndingTag::$attributes is deprecated in
/var/www/html/worldnews/wp-content/plugins/automatic-internal-links-for-seo/vendor/friedolinfoerder/html-changer/src/HtmlChanger.php
on line
552
Deprecated
: Creation of dynamic property html_changer\EndingTag::$attributes is deprecated in
/var/www/html/worldnews/wp-content/plugins/automatic-internal-links-for-seo/vendor/friedolinfoerder/html-changer/src/HtmlChanger.php
on line
552
Deprecated
: Creation of dynamic property html_changer\EndingTag::$attributes is deprecated in
/var/www/html/worldnews/wp-content/plugins/automatic-internal-links-for-seo/vendor/friedolinfoerder/html-changer/src/HtmlChanger.php
on line
552
Deprecated
: Creation of dynamic property html_changer\EndingTag::$attributes is deprecated in
/var/www/html/worldnews/wp-content/plugins/automatic-internal-links-for-seo/vendor/friedolinfoerder/html-changer/src/HtmlChanger.php
on line
552
Deprecated
: Creation of dynamic property html_changer\EndingTag::$attributes is deprecated in
/var/www/html/worldnews/wp-content/plugins/automatic-internal-links-for-seo/vendor/friedolinfoerder/html-changer/src/HtmlChanger.php
on line
552
Deprecated
: Creation of dynamic property html_changer\EndingTag::$attributes is deprecated in
/var/www/html/worldnews/wp-content/plugins/automatic-internal-links-for-seo/vendor/friedolinfoerder/html-changer/src/HtmlChanger.php
on line
552
Deprecated
: Creation of dynamic property html_changer\EndingTag::$attributes is deprecated in
/var/www/html/worldnews/wp-content/plugins/automatic-internal-links-for-seo/vendor/friedolinfoerder/html-changer/src/HtmlChanger.php
on line
552
Deprecated
: Creation of dynamic property html_changer\EndingTag::$attributes is deprecated in
/var/www/html/worldnews/wp-content/plugins/automatic-internal-links-for-seo/vendor/friedolinfoerder/html-changer/src/HtmlChanger.php
on line
552
Deprecated
: Creation of dynamic property html_changer\EndingTag::$attributes is deprecated in
/var/www/html/worldnews/wp-content/plugins/automatic-internal-links-for-seo/vendor/friedolinfoerder/html-changer/src/HtmlChanger.php
on line
552
Deprecated
: Creation of dynamic property html_changer\EndingTag::$attributes is deprecated in
/var/www/html/worldnews/wp-content/plugins/automatic-internal-links-for-seo/vendor/friedolinfoerder/html-changer/src/HtmlChanger.php
on line
552
Deprecated
: Creation of dynamic property html_changer\EndingTag::$attributes is deprecated in
/var/www/html/worldnews/wp-content/plugins/automatic-internal-links-for-seo/vendor/friedolinfoerder/html-changer/src/HtmlChanger.php
on line
552
Deprecated
: Creation of dynamic property html_changer\EndingTag::$attributes is deprecated in
/var/www/html/worldnews/wp-content/plugins/automatic-internal-links-for-seo/vendor/friedolinfoerder/html-changer/src/HtmlChanger.php
on line
552
Deprecated
: Creation of dynamic property html_changer\EndingTag::$attributes is deprecated in
/var/www/html/worldnews/wp-content/plugins/automatic-internal-links-for-seo/vendor/friedolinfoerder/html-changer/src/HtmlChanger.php
on line
552
Deprecated
: Creation of dynamic property html_changer\EndingTag::$attributes is deprecated in
/var/www/html/worldnews/wp-content/plugins/automatic-internal-links-for-seo/vendor/friedolinfoerder/html-changer/src/HtmlChanger.php
on line
552
Personal finance | Man forced to cash in pension to get by amid struggle for new job
For three years Mark, 60, from Scotland has been finding it difficult to find a new job after working in IT for 40 years.
In order to survive, he had to cash in his private pension to get an income, but it ran out.
---
He's now receiving Universal Credit and has his rent taken care of. But desperately wants to start working again.
He said: "It's hard to say why I'm not getting hired, but the only thing I have done in the last few years is get older.
Have you got a money story you'd like to share? Get in touch by emailing [email protected].
WATCH NOW: Christopher Hope explains Sunak's benefits 'clampdown'
"You apply for jobs and no one even gets back to you – they don't even get back to you to say that you haven't been successful."
He stopped working due to challenges with his health, he says he developed arthritic grout and was prescribed painkillers by his doctor.
As a result, he had to sell his house and is now living in rental accommodation. He ended up changing doctors and has been on different medicine which counteracts the gout. Since then, he's seen improvements in his health and says, "I am ready to work again".
Almost a third of older workers are struggling to find suitable jobs, with 34 per cent of older workers job hunting from seven months to over a year before landing a role, according to research conducted by the careers organisation, Working Wise.
One in four middle-aged workers said they are interested in retiring early, with caring responsibilities being one of the reasons. With 41 per cent of retired workers saying that could be tempted back into the workplace.
Balancing both caring obligations with worth is something June Smith knows too well, as she has to look after her father who has been diagnosed with Alzheimer's.
"There are many people like me in their 50s with relatives who are living longer but often in pretty poor health.
"When you have children you get paid maternity leave but that is not the case for carers. You have to take a cut in salary. The assumption is that carers have money. Yet I am in effect looking after an 85-year-old baby.
She added: "Reduced pay means retirement is further off. I would like to retire earlier than 67, Alzheimer's can last a long time," she says. "I may never be able to retire.
Discrimination towards their age is something cited to be an issue when older workers apply for jobs.
Almost two thirds of those looking for a job have experienced "ageism", and 55 per cent feel their CV or applicate was put aside due to their age.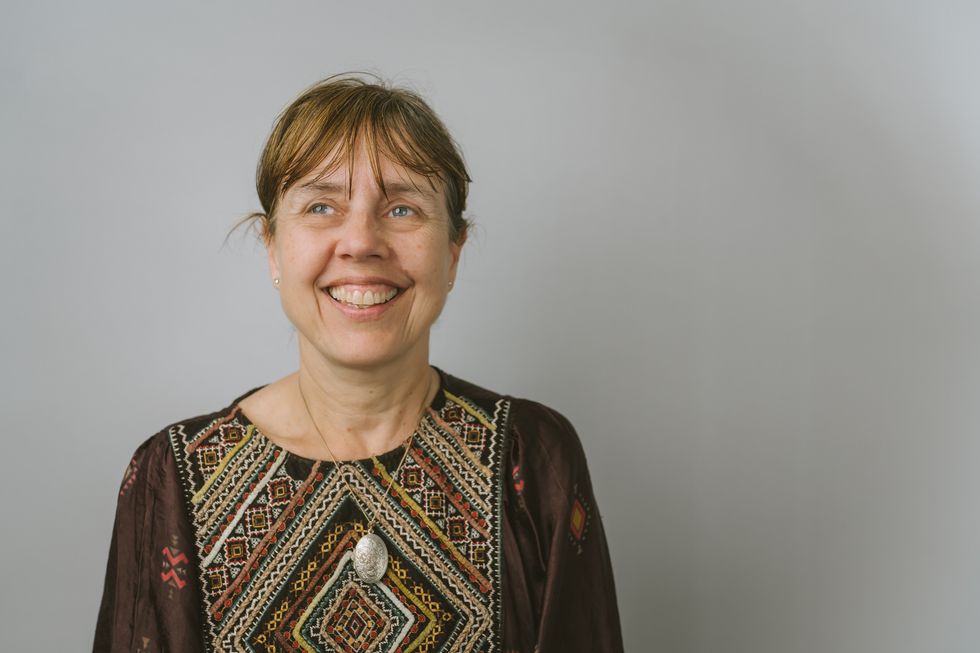 Mandy Garner said it was 'key' that the UK enables opportunities that 'let older workers in'
WORKING WISE
Almost half of those who took part in the survey say they have altered their CV just to get an interview.
Mandy Garner, a spokesperson for Working Wise, said: "Getting people back into the labour market is high up on the political agenda – what's key is that we enable opportunities that let older workers in.
"It's clear from our research that whilst almost half of people have retired could be tempted back, there is work to do to create jobs that suit their needs with flexible working a deal-breaker for many, and a need to feel appreciated at work.
1,592 older workers aged 45 and above took part in the research which took two months ending in October.
Related Search Query:-
Breaking News
Breaking News today
Breaking News headlines
Breaking News in English



#Man #forced #cash #pension #struggle #job