Deprecated
: Creation of dynamic property html_changer\EndingTag::$attributes is deprecated in
/var/www/html/worldnews/wp-content/plugins/automatic-internal-links-for-seo/vendor/friedolinfoerder/html-changer/src/HtmlChanger.php
on line
552
Deprecated
: Creation of dynamic property html_changer\EndingTag::$attributes is deprecated in
/var/www/html/worldnews/wp-content/plugins/automatic-internal-links-for-seo/vendor/friedolinfoerder/html-changer/src/HtmlChanger.php
on line
552
Deprecated
: Creation of dynamic property html_changer\EndingTag::$attributes is deprecated in
/var/www/html/worldnews/wp-content/plugins/automatic-internal-links-for-seo/vendor/friedolinfoerder/html-changer/src/HtmlChanger.php
on line
552
Deprecated
: Creation of dynamic property html_changer\EndingTag::$attributes is deprecated in
/var/www/html/worldnews/wp-content/plugins/automatic-internal-links-for-seo/vendor/friedolinfoerder/html-changer/src/HtmlChanger.php
on line
552
Deprecated
: Creation of dynamic property html_changer\EndingTag::$attributes is deprecated in
/var/www/html/worldnews/wp-content/plugins/automatic-internal-links-for-seo/vendor/friedolinfoerder/html-changer/src/HtmlChanger.php
on line
552
Deprecated
: Creation of dynamic property html_changer\EndingTag::$attributes is deprecated in
/var/www/html/worldnews/wp-content/plugins/automatic-internal-links-for-seo/vendor/friedolinfoerder/html-changer/src/HtmlChanger.php
on line
552
Deprecated
: Creation of dynamic property html_changer\EndingTag::$attributes is deprecated in
/var/www/html/worldnews/wp-content/plugins/automatic-internal-links-for-seo/vendor/friedolinfoerder/html-changer/src/HtmlChanger.php
on line
552
Deprecated
: Creation of dynamic property html_changer\EndingTag::$attributes is deprecated in
/var/www/html/worldnews/wp-content/plugins/automatic-internal-links-for-seo/vendor/friedolinfoerder/html-changer/src/HtmlChanger.php
on line
552
Deprecated
: Creation of dynamic property html_changer\EndingTag::$attributes is deprecated in
/var/www/html/worldnews/wp-content/plugins/automatic-internal-links-for-seo/vendor/friedolinfoerder/html-changer/src/HtmlChanger.php
on line
552
Deprecated
: Creation of dynamic property html_changer\EndingTag::$attributes is deprecated in
/var/www/html/worldnews/wp-content/plugins/automatic-internal-links-for-seo/vendor/friedolinfoerder/html-changer/src/HtmlChanger.php
on line
552
Deprecated
: Creation of dynamic property html_changer\EndingTag::$attributes is deprecated in
/var/www/html/worldnews/wp-content/plugins/automatic-internal-links-for-seo/vendor/friedolinfoerder/html-changer/src/HtmlChanger.php
on line
552
Deprecated
: Creation of dynamic property html_changer\EndingTag::$attributes is deprecated in
/var/www/html/worldnews/wp-content/plugins/automatic-internal-links-for-seo/vendor/friedolinfoerder/html-changer/src/HtmlChanger.php
on line
552
Deprecated
: Creation of dynamic property html_changer\EndingTag::$attributes is deprecated in
/var/www/html/worldnews/wp-content/plugins/automatic-internal-links-for-seo/vendor/friedolinfoerder/html-changer/src/HtmlChanger.php
on line
552
Deprecated
: Creation of dynamic property html_changer\EndingTag::$attributes is deprecated in
/var/www/html/worldnews/wp-content/plugins/automatic-internal-links-for-seo/vendor/friedolinfoerder/html-changer/src/HtmlChanger.php
on line
552
Deprecated
: Creation of dynamic property html_changer\EndingTag::$attributes is deprecated in
/var/www/html/worldnews/wp-content/plugins/automatic-internal-links-for-seo/vendor/friedolinfoerder/html-changer/src/HtmlChanger.php
on line
552
Deprecated
: Creation of dynamic property html_changer\EndingTag::$attributes is deprecated in
/var/www/html/worldnews/wp-content/plugins/automatic-internal-links-for-seo/vendor/friedolinfoerder/html-changer/src/HtmlChanger.php
on line
552
Deprecated
: Creation of dynamic property html_changer\EndingTag::$attributes is deprecated in
/var/www/html/worldnews/wp-content/plugins/automatic-internal-links-for-seo/vendor/friedolinfoerder/html-changer/src/HtmlChanger.php
on line
552
Deprecated
: Creation of dynamic property html_changer\EndingTag::$attributes is deprecated in
/var/www/html/worldnews/wp-content/plugins/automatic-internal-links-for-seo/vendor/friedolinfoerder/html-changer/src/HtmlChanger.php
on line
552
Deprecated
: Creation of dynamic property html_changer\EndingTag::$attributes is deprecated in
/var/www/html/worldnews/wp-content/plugins/automatic-internal-links-for-seo/vendor/friedolinfoerder/html-changer/src/HtmlChanger.php
on line
552
Deprecated
: Creation of dynamic property html_changer\EndingTag::$attributes is deprecated in
/var/www/html/worldnews/wp-content/plugins/automatic-internal-links-for-seo/vendor/friedolinfoerder/html-changer/src/HtmlChanger.php
on line
552
Deprecated
: Creation of dynamic property html_changer\EndingTag::$attributes is deprecated in
/var/www/html/worldnews/wp-content/plugins/automatic-internal-links-for-seo/vendor/friedolinfoerder/html-changer/src/HtmlChanger.php
on line
552
Deprecated
: Creation of dynamic property html_changer\EndingTag::$attributes is deprecated in
/var/www/html/worldnews/wp-content/plugins/automatic-internal-links-for-seo/vendor/friedolinfoerder/html-changer/src/HtmlChanger.php
on line
552
Deprecated
: Creation of dynamic property html_changer\EndingTag::$attributes is deprecated in
/var/www/html/worldnews/wp-content/plugins/automatic-internal-links-for-seo/vendor/friedolinfoerder/html-changer/src/HtmlChanger.php
on line
552
Deprecated
: Creation of dynamic property html_changer\EndingTag::$attributes is deprecated in
/var/www/html/worldnews/wp-content/plugins/automatic-internal-links-for-seo/vendor/friedolinfoerder/html-changer/src/HtmlChanger.php
on line
552
Deprecated
: Creation of dynamic property html_changer\EndingTag::$attributes is deprecated in
/var/www/html/worldnews/wp-content/plugins/automatic-internal-links-for-seo/vendor/friedolinfoerder/html-changer/src/HtmlChanger.php
on line
552
Deprecated
: Creation of dynamic property html_changer\EndingTag::$attributes is deprecated in
/var/www/html/worldnews/wp-content/plugins/automatic-internal-links-for-seo/vendor/friedolinfoerder/html-changer/src/HtmlChanger.php
on line
552
Deprecated
: Creation of dynamic property html_changer\EndingTag::$attributes is deprecated in
/var/www/html/worldnews/wp-content/plugins/automatic-internal-links-for-seo/vendor/friedolinfoerder/html-changer/src/HtmlChanger.php
on line
552
Deprecated
: Creation of dynamic property html_changer\EndingTag::$attributes is deprecated in
/var/www/html/worldnews/wp-content/plugins/automatic-internal-links-for-seo/vendor/friedolinfoerder/html-changer/src/HtmlChanger.php
on line
552
Deprecated
: Creation of dynamic property html_changer\EndingTag::$attributes is deprecated in
/var/www/html/worldnews/wp-content/plugins/automatic-internal-links-for-seo/vendor/friedolinfoerder/html-changer/src/HtmlChanger.php
on line
552
Deprecated
: Creation of dynamic property html_changer\EndingTag::$attributes is deprecated in
/var/www/html/worldnews/wp-content/plugins/automatic-internal-links-for-seo/vendor/friedolinfoerder/html-changer/src/HtmlChanger.php
on line
552
Deprecated
: Creation of dynamic property html_changer\EndingTag::$attributes is deprecated in
/var/www/html/worldnews/wp-content/plugins/automatic-internal-links-for-seo/vendor/friedolinfoerder/html-changer/src/HtmlChanger.php
on line
552
Deprecated
: Creation of dynamic property html_changer\EndingTag::$attributes is deprecated in
/var/www/html/worldnews/wp-content/plugins/automatic-internal-links-for-seo/vendor/friedolinfoerder/html-changer/src/HtmlChanger.php
on line
552
Deprecated
: Creation of dynamic property html_changer\EndingTag::$attributes is deprecated in
/var/www/html/worldnews/wp-content/plugins/automatic-internal-links-for-seo/vendor/friedolinfoerder/html-changer/src/HtmlChanger.php
on line
552
Deprecated
: Creation of dynamic property html_changer\EndingTag::$attributes is deprecated in
/var/www/html/worldnews/wp-content/plugins/automatic-internal-links-for-seo/vendor/friedolinfoerder/html-changer/src/HtmlChanger.php
on line
552
Deprecated
: Creation of dynamic property html_changer\EndingTag::$attributes is deprecated in
/var/www/html/worldnews/wp-content/plugins/automatic-internal-links-for-seo/vendor/friedolinfoerder/html-changer/src/HtmlChanger.php
on line
552
Deprecated
: Creation of dynamic property html_changer\EndingTag::$attributes is deprecated in
/var/www/html/worldnews/wp-content/plugins/automatic-internal-links-for-seo/vendor/friedolinfoerder/html-changer/src/HtmlChanger.php
on line
552
Deprecated
: Creation of dynamic property html_changer\EndingTag::$attributes is deprecated in
/var/www/html/worldnews/wp-content/plugins/automatic-internal-links-for-seo/vendor/friedolinfoerder/html-changer/src/HtmlChanger.php
on line
552
Deprecated
: Creation of dynamic property html_changer\EndingTag::$attributes is deprecated in
/var/www/html/worldnews/wp-content/plugins/automatic-internal-links-for-seo/vendor/friedolinfoerder/html-changer/src/HtmlChanger.php
on line
552
Deprecated
: Creation of dynamic property html_changer\EndingTag::$attributes is deprecated in
/var/www/html/worldnews/wp-content/plugins/automatic-internal-links-for-seo/vendor/friedolinfoerder/html-changer/src/HtmlChanger.php
on line
552
Deprecated
: Creation of dynamic property html_changer\EndingTag::$attributes is deprecated in
/var/www/html/worldnews/wp-content/plugins/automatic-internal-links-for-seo/vendor/friedolinfoerder/html-changer/src/HtmlChanger.php
on line
552
Deprecated
: Creation of dynamic property html_changer\EndingTag::$attributes is deprecated in
/var/www/html/worldnews/wp-content/plugins/automatic-internal-links-for-seo/vendor/friedolinfoerder/html-changer/src/HtmlChanger.php
on line
552
Deprecated
: Creation of dynamic property html_changer\EndingTag::$attributes is deprecated in
/var/www/html/worldnews/wp-content/plugins/automatic-internal-links-for-seo/vendor/friedolinfoerder/html-changer/src/HtmlChanger.php
on line
552
Deprecated
: Creation of dynamic property html_changer\EndingTag::$attributes is deprecated in
/var/www/html/worldnews/wp-content/plugins/automatic-internal-links-for-seo/vendor/friedolinfoerder/html-changer/src/HtmlChanger.php
on line
552
Deprecated
: Creation of dynamic property html_changer\EndingTag::$attributes is deprecated in
/var/www/html/worldnews/wp-content/plugins/automatic-internal-links-for-seo/vendor/friedolinfoerder/html-changer/src/HtmlChanger.php
on line
552
Deprecated
: Creation of dynamic property html_changer\EndingTag::$attributes is deprecated in
/var/www/html/worldnews/wp-content/plugins/automatic-internal-links-for-seo/vendor/friedolinfoerder/html-changer/src/HtmlChanger.php
on line
552
Deprecated
: Creation of dynamic property html_changer\EndingTag::$attributes is deprecated in
/var/www/html/worldnews/wp-content/plugins/automatic-internal-links-for-seo/vendor/friedolinfoerder/html-changer/src/HtmlChanger.php
on line
552
Deprecated
: Creation of dynamic property html_changer\EndingTag::$attributes is deprecated in
/var/www/html/worldnews/wp-content/plugins/automatic-internal-links-for-seo/vendor/friedolinfoerder/html-changer/src/HtmlChanger.php
on line
552
Deprecated
: Creation of dynamic property html_changer\EndingTag::$attributes is deprecated in
/var/www/html/worldnews/wp-content/plugins/automatic-internal-links-for-seo/vendor/friedolinfoerder/html-changer/src/HtmlChanger.php
on line
552
Deprecated
: Creation of dynamic property html_changer\EndingTag::$attributes is deprecated in
/var/www/html/worldnews/wp-content/plugins/automatic-internal-links-for-seo/vendor/friedolinfoerder/html-changer/src/HtmlChanger.php
on line
552
Deprecated
: Creation of dynamic property html_changer\EndingTag::$attributes is deprecated in
/var/www/html/worldnews/wp-content/plugins/automatic-internal-links-for-seo/vendor/friedolinfoerder/html-changer/src/HtmlChanger.php
on line
552
Deprecated
: Creation of dynamic property html_changer\EndingTag::$attributes is deprecated in
/var/www/html/worldnews/wp-content/plugins/automatic-internal-links-for-seo/vendor/friedolinfoerder/html-changer/src/HtmlChanger.php
on line
552
Deprecated
: Creation of dynamic property html_changer\EndingTag::$attributes is deprecated in
/var/www/html/worldnews/wp-content/plugins/automatic-internal-links-for-seo/vendor/friedolinfoerder/html-changer/src/HtmlChanger.php
on line
552
Deprecated
: Creation of dynamic property html_changer\EndingTag::$attributes is deprecated in
/var/www/html/worldnews/wp-content/plugins/automatic-internal-links-for-seo/vendor/friedolinfoerder/html-changer/src/HtmlChanger.php
on line
552
Deprecated
: Creation of dynamic property html_changer\EndingTag::$attributes is deprecated in
/var/www/html/worldnews/wp-content/plugins/automatic-internal-links-for-seo/vendor/friedolinfoerder/html-changer/src/HtmlChanger.php
on line
552
Deprecated
: Creation of dynamic property html_changer\EndingTag::$attributes is deprecated in
/var/www/html/worldnews/wp-content/plugins/automatic-internal-links-for-seo/vendor/friedolinfoerder/html-changer/src/HtmlChanger.php
on line
552
Deprecated
: Creation of dynamic property html_changer\EndingTag::$attributes is deprecated in
/var/www/html/worldnews/wp-content/plugins/automatic-internal-links-for-seo/vendor/friedolinfoerder/html-changer/src/HtmlChanger.php
on line
552
Deprecated
: Creation of dynamic property html_changer\EndingTag::$attributes is deprecated in
/var/www/html/worldnews/wp-content/plugins/automatic-internal-links-for-seo/vendor/friedolinfoerder/html-changer/src/HtmlChanger.php
on line
552
Deprecated
: Creation of dynamic property html_changer\EndingTag::$attributes is deprecated in
/var/www/html/worldnews/wp-content/plugins/automatic-internal-links-for-seo/vendor/friedolinfoerder/html-changer/src/HtmlChanger.php
on line
552
Deprecated
: Creation of dynamic property html_changer\EndingTag::$attributes is deprecated in
/var/www/html/worldnews/wp-content/plugins/automatic-internal-links-for-seo/vendor/friedolinfoerder/html-changer/src/HtmlChanger.php
on line
552
Deprecated
: Creation of dynamic property html_changer\EndingTag::$attributes is deprecated in
/var/www/html/worldnews/wp-content/plugins/automatic-internal-links-for-seo/vendor/friedolinfoerder/html-changer/src/HtmlChanger.php
on line
552
Deprecated
: Creation of dynamic property html_changer\EndingTag::$attributes is deprecated in
/var/www/html/worldnews/wp-content/plugins/automatic-internal-links-for-seo/vendor/friedolinfoerder/html-changer/src/HtmlChanger.php
on line
552
Deprecated
: Creation of dynamic property html_changer\EndingTag::$attributes is deprecated in
/var/www/html/worldnews/wp-content/plugins/automatic-internal-links-for-seo/vendor/friedolinfoerder/html-changer/src/HtmlChanger.php
on line
552
Deprecated
: Creation of dynamic property html_changer\EndingTag::$attributes is deprecated in
/var/www/html/worldnews/wp-content/plugins/automatic-internal-links-for-seo/vendor/friedolinfoerder/html-changer/src/HtmlChanger.php
on line
552
Deprecated
: Creation of dynamic property html_changer\EndingTag::$attributes is deprecated in
/var/www/html/worldnews/wp-content/plugins/automatic-internal-links-for-seo/vendor/friedolinfoerder/html-changer/src/HtmlChanger.php
on line
552
Deprecated
: Creation of dynamic property html_changer\EndingTag::$attributes is deprecated in
/var/www/html/worldnews/wp-content/plugins/automatic-internal-links-for-seo/vendor/friedolinfoerder/html-changer/src/HtmlChanger.php
on line
552
Deprecated
: Creation of dynamic property html_changer\EndingTag::$attributes is deprecated in
/var/www/html/worldnews/wp-content/plugins/automatic-internal-links-for-seo/vendor/friedolinfoerder/html-changer/src/HtmlChanger.php
on line
552
Deprecated
: Creation of dynamic property html_changer\EndingTag::$attributes is deprecated in
/var/www/html/worldnews/wp-content/plugins/automatic-internal-links-for-seo/vendor/friedolinfoerder/html-changer/src/HtmlChanger.php
on line
552
Deprecated
: Creation of dynamic property html_changer\EndingTag::$attributes is deprecated in
/var/www/html/worldnews/wp-content/plugins/automatic-internal-links-for-seo/vendor/friedolinfoerder/html-changer/src/HtmlChanger.php
on line
552
Deprecated
: Creation of dynamic property html_changer\EndingTag::$attributes is deprecated in
/var/www/html/worldnews/wp-content/plugins/automatic-internal-links-for-seo/vendor/friedolinfoerder/html-changer/src/HtmlChanger.php
on line
552
Deprecated
: Creation of dynamic property html_changer\EndingTag::$attributes is deprecated in
/var/www/html/worldnews/wp-content/plugins/automatic-internal-links-for-seo/vendor/friedolinfoerder/html-changer/src/HtmlChanger.php
on line
552
Deprecated
: Creation of dynamic property html_changer\EndingTag::$attributes is deprecated in
/var/www/html/worldnews/wp-content/plugins/automatic-internal-links-for-seo/vendor/friedolinfoerder/html-changer/src/HtmlChanger.php
on line
552
Deprecated
: Creation of dynamic property html_changer\EndingTag::$attributes is deprecated in
/var/www/html/worldnews/wp-content/plugins/automatic-internal-links-for-seo/vendor/friedolinfoerder/html-changer/src/HtmlChanger.php
on line
552
Deprecated
: Creation of dynamic property html_changer\EndingTag::$attributes is deprecated in
/var/www/html/worldnews/wp-content/plugins/automatic-internal-links-for-seo/vendor/friedolinfoerder/html-changer/src/HtmlChanger.php
on line
552
Deprecated
: Creation of dynamic property html_changer\EndingTag::$attributes is deprecated in
/var/www/html/worldnews/wp-content/plugins/automatic-internal-links-for-seo/vendor/friedolinfoerder/html-changer/src/HtmlChanger.php
on line
552
Deprecated
: Creation of dynamic property html_changer\EndingTag::$attributes is deprecated in
/var/www/html/worldnews/wp-content/plugins/automatic-internal-links-for-seo/vendor/friedolinfoerder/html-changer/src/HtmlChanger.php
on line
552
Deprecated
: Creation of dynamic property html_changer\EndingTag::$attributes is deprecated in
/var/www/html/worldnews/wp-content/plugins/automatic-internal-links-for-seo/vendor/friedolinfoerder/html-changer/src/HtmlChanger.php
on line
552
Deprecated
: Creation of dynamic property html_changer\EndingTag::$attributes is deprecated in
/var/www/html/worldnews/wp-content/plugins/automatic-internal-links-for-seo/vendor/friedolinfoerder/html-changer/src/HtmlChanger.php
on line
552
Deprecated
: Creation of dynamic property html_changer\EndingTag::$attributes is deprecated in
/var/www/html/worldnews/wp-content/plugins/automatic-internal-links-for-seo/vendor/friedolinfoerder/html-changer/src/HtmlChanger.php
on line
552
Deprecated
: Creation of dynamic property html_changer\EndingTag::$attributes is deprecated in
/var/www/html/worldnews/wp-content/plugins/automatic-internal-links-for-seo/vendor/friedolinfoerder/html-changer/src/HtmlChanger.php
on line
552
Deprecated
: Creation of dynamic property html_changer\EndingTag::$attributes is deprecated in
/var/www/html/worldnews/wp-content/plugins/automatic-internal-links-for-seo/vendor/friedolinfoerder/html-changer/src/HtmlChanger.php
on line
552
Deprecated
: Creation of dynamic property html_changer\EndingTag::$attributes is deprecated in
/var/www/html/worldnews/wp-content/plugins/automatic-internal-links-for-seo/vendor/friedolinfoerder/html-changer/src/HtmlChanger.php
on line
552
Deprecated
: Creation of dynamic property html_changer\EndingTag::$attributes is deprecated in
/var/www/html/worldnews/wp-content/plugins/automatic-internal-links-for-seo/vendor/friedolinfoerder/html-changer/src/HtmlChanger.php
on line
552
Deprecated
: Creation of dynamic property html_changer\EndingTag::$attributes is deprecated in
/var/www/html/worldnews/wp-content/plugins/automatic-internal-links-for-seo/vendor/friedolinfoerder/html-changer/src/HtmlChanger.php
on line
552
Deprecated
: Creation of dynamic property html_changer\EndingTag::$attributes is deprecated in
/var/www/html/worldnews/wp-content/plugins/automatic-internal-links-for-seo/vendor/friedolinfoerder/html-changer/src/HtmlChanger.php
on line
552
Deprecated
: Creation of dynamic property html_changer\EndingTag::$attributes is deprecated in
/var/www/html/worldnews/wp-content/plugins/automatic-internal-links-for-seo/vendor/friedolinfoerder/html-changer/src/HtmlChanger.php
on line
552
Deprecated
: Creation of dynamic property html_changer\EndingTag::$attributes is deprecated in
/var/www/html/worldnews/wp-content/plugins/automatic-internal-links-for-seo/vendor/friedolinfoerder/html-changer/src/HtmlChanger.php
on line
552
Deprecated
: Creation of dynamic property html_changer\EndingTag::$attributes is deprecated in
/var/www/html/worldnews/wp-content/plugins/automatic-internal-links-for-seo/vendor/friedolinfoerder/html-changer/src/HtmlChanger.php
on line
552
Deprecated
: Creation of dynamic property html_changer\EndingTag::$attributes is deprecated in
/var/www/html/worldnews/wp-content/plugins/automatic-internal-links-for-seo/vendor/friedolinfoerder/html-changer/src/HtmlChanger.php
on line
552
Deprecated
: Creation of dynamic property html_changer\EndingTag::$attributes is deprecated in
/var/www/html/worldnews/wp-content/plugins/automatic-internal-links-for-seo/vendor/friedolinfoerder/html-changer/src/HtmlChanger.php
on line
552
Deprecated
: Creation of dynamic property html_changer\EndingTag::$attributes is deprecated in
/var/www/html/worldnews/wp-content/plugins/automatic-internal-links-for-seo/vendor/friedolinfoerder/html-changer/src/HtmlChanger.php
on line
552
Deprecated
: Creation of dynamic property html_changer\EndingTag::$attributes is deprecated in
/var/www/html/worldnews/wp-content/plugins/automatic-internal-links-for-seo/vendor/friedolinfoerder/html-changer/src/HtmlChanger.php
on line
552
Deprecated
: Creation of dynamic property html_changer\EndingTag::$attributes is deprecated in
/var/www/html/worldnews/wp-content/plugins/automatic-internal-links-for-seo/vendor/friedolinfoerder/html-changer/src/HtmlChanger.php
on line
552
Deprecated
: Creation of dynamic property html_changer\EndingTag::$attributes is deprecated in
/var/www/html/worldnews/wp-content/plugins/automatic-internal-links-for-seo/vendor/friedolinfoerder/html-changer/src/HtmlChanger.php
on line
552
Deprecated
: Creation of dynamic property html_changer\EndingTag::$attributes is deprecated in
/var/www/html/worldnews/wp-content/plugins/automatic-internal-links-for-seo/vendor/friedolinfoerder/html-changer/src/HtmlChanger.php
on line
552
Deprecated
: Creation of dynamic property html_changer\EndingTag::$attributes is deprecated in
/var/www/html/worldnews/wp-content/plugins/automatic-internal-links-for-seo/vendor/friedolinfoerder/html-changer/src/HtmlChanger.php
on line
552
Deprecated
: Creation of dynamic property html_changer\EndingTag::$attributes is deprecated in
/var/www/html/worldnews/wp-content/plugins/automatic-internal-links-for-seo/vendor/friedolinfoerder/html-changer/src/HtmlChanger.php
on line
552
Deprecated
: Creation of dynamic property html_changer\EndingTag::$attributes is deprecated in
/var/www/html/worldnews/wp-content/plugins/automatic-internal-links-for-seo/vendor/friedolinfoerder/html-changer/src/HtmlChanger.php
on line
552
Deprecated
: Creation of dynamic property html_changer\EndingTag::$attributes is deprecated in
/var/www/html/worldnews/wp-content/plugins/automatic-internal-links-for-seo/vendor/friedolinfoerder/html-changer/src/HtmlChanger.php
on line
552
Deprecated
: Creation of dynamic property html_changer\EndingTag::$attributes is deprecated in
/var/www/html/worldnews/wp-content/plugins/automatic-internal-links-for-seo/vendor/friedolinfoerder/html-changer/src/HtmlChanger.php
on line
552
Deprecated
: Creation of dynamic property html_changer\EndingTag::$attributes is deprecated in
/var/www/html/worldnews/wp-content/plugins/automatic-internal-links-for-seo/vendor/friedolinfoerder/html-changer/src/HtmlChanger.php
on line
552
Deprecated
: Creation of dynamic property html_changer\EndingTag::$attributes is deprecated in
/var/www/html/worldnews/wp-content/plugins/automatic-internal-links-for-seo/vendor/friedolinfoerder/html-changer/src/HtmlChanger.php
on line
552
Deprecated
: Creation of dynamic property html_changer\EndingTag::$attributes is deprecated in
/var/www/html/worldnews/wp-content/plugins/automatic-internal-links-for-seo/vendor/friedolinfoerder/html-changer/src/HtmlChanger.php
on line
552
Deprecated
: Creation of dynamic property html_changer\EndingTag::$attributes is deprecated in
/var/www/html/worldnews/wp-content/plugins/automatic-internal-links-for-seo/vendor/friedolinfoerder/html-changer/src/HtmlChanger.php
on line
552
Deprecated
: Creation of dynamic property html_changer\EndingTag::$attributes is deprecated in
/var/www/html/worldnews/wp-content/plugins/automatic-internal-links-for-seo/vendor/friedolinfoerder/html-changer/src/HtmlChanger.php
on line
552
Deprecated
: Creation of dynamic property html_changer\EndingTag::$attributes is deprecated in
/var/www/html/worldnews/wp-content/plugins/automatic-internal-links-for-seo/vendor/friedolinfoerder/html-changer/src/HtmlChanger.php
on line
552
Deprecated
: Creation of dynamic property html_changer\EndingTag::$attributes is deprecated in
/var/www/html/worldnews/wp-content/plugins/automatic-internal-links-for-seo/vendor/friedolinfoerder/html-changer/src/HtmlChanger.php
on line
552
Deprecated
: Creation of dynamic property html_changer\EndingTag::$attributes is deprecated in
/var/www/html/worldnews/wp-content/plugins/automatic-internal-links-for-seo/vendor/friedolinfoerder/html-changer/src/HtmlChanger.php
on line
552
Deprecated
: Creation of dynamic property html_changer\EndingTag::$attributes is deprecated in
/var/www/html/worldnews/wp-content/plugins/automatic-internal-links-for-seo/vendor/friedolinfoerder/html-changer/src/HtmlChanger.php
on line
552
Deprecated
: Creation of dynamic property html_changer\EndingTag::$attributes is deprecated in
/var/www/html/worldnews/wp-content/plugins/automatic-internal-links-for-seo/vendor/friedolinfoerder/html-changer/src/HtmlChanger.php
on line
552
Deprecated
: Creation of dynamic property html_changer\EndingTag::$attributes is deprecated in
/var/www/html/worldnews/wp-content/plugins/automatic-internal-links-for-seo/vendor/friedolinfoerder/html-changer/src/HtmlChanger.php
on line
552
Deprecated
: Creation of dynamic property html_changer\EndingTag::$attributes is deprecated in
/var/www/html/worldnews/wp-content/plugins/automatic-internal-links-for-seo/vendor/friedolinfoerder/html-changer/src/HtmlChanger.php
on line
552
Deprecated
: Creation of dynamic property html_changer\EndingTag::$attributes is deprecated in
/var/www/html/worldnews/wp-content/plugins/automatic-internal-links-for-seo/vendor/friedolinfoerder/html-changer/src/HtmlChanger.php
on line
552
Deprecated
: Creation of dynamic property html_changer\EndingTag::$attributes is deprecated in
/var/www/html/worldnews/wp-content/plugins/automatic-internal-links-for-seo/vendor/friedolinfoerder/html-changer/src/HtmlChanger.php
on line
552
Deprecated
: Creation of dynamic property html_changer\EndingTag::$attributes is deprecated in
/var/www/html/worldnews/wp-content/plugins/automatic-internal-links-for-seo/vendor/friedolinfoerder/html-changer/src/HtmlChanger.php
on line
552
Deprecated
: Creation of dynamic property html_changer\EndingTag::$attributes is deprecated in
/var/www/html/worldnews/wp-content/plugins/automatic-internal-links-for-seo/vendor/friedolinfoerder/html-changer/src/HtmlChanger.php
on line
552
Deprecated
: Creation of dynamic property html_changer\EndingTag::$attributes is deprecated in
/var/www/html/worldnews/wp-content/plugins/automatic-internal-links-for-seo/vendor/friedolinfoerder/html-changer/src/HtmlChanger.php
on line
552
Deprecated
: Creation of dynamic property html_changer\EndingTag::$attributes is deprecated in
/var/www/html/worldnews/wp-content/plugins/automatic-internal-links-for-seo/vendor/friedolinfoerder/html-changer/src/HtmlChanger.php
on line
552
Deprecated
: Creation of dynamic property html_changer\EndingTag::$attributes is deprecated in
/var/www/html/worldnews/wp-content/plugins/automatic-internal-links-for-seo/vendor/friedolinfoerder/html-changer/src/HtmlChanger.php
on line
552
Deprecated
: Creation of dynamic property html_changer\EndingTag::$attributes is deprecated in
/var/www/html/worldnews/wp-content/plugins/automatic-internal-links-for-seo/vendor/friedolinfoerder/html-changer/src/HtmlChanger.php
on line
552
Deprecated
: Creation of dynamic property html_changer\EndingTag::$attributes is deprecated in
/var/www/html/worldnews/wp-content/plugins/automatic-internal-links-for-seo/vendor/friedolinfoerder/html-changer/src/HtmlChanger.php
on line
552
Deprecated
: Creation of dynamic property html_changer\EndingTag::$attributes is deprecated in
/var/www/html/worldnews/wp-content/plugins/automatic-internal-links-for-seo/vendor/friedolinfoerder/html-changer/src/HtmlChanger.php
on line
552
Deprecated
: Creation of dynamic property html_changer\EndingTag::$attributes is deprecated in
/var/www/html/worldnews/wp-content/plugins/automatic-internal-links-for-seo/vendor/friedolinfoerder/html-changer/src/HtmlChanger.php
on line
552
Deprecated
: Creation of dynamic property html_changer\EndingTag::$attributes is deprecated in
/var/www/html/worldnews/wp-content/plugins/automatic-internal-links-for-seo/vendor/friedolinfoerder/html-changer/src/HtmlChanger.php
on line
552
Deprecated
: Creation of dynamic property html_changer\EndingTag::$attributes is deprecated in
/var/www/html/worldnews/wp-content/plugins/automatic-internal-links-for-seo/vendor/friedolinfoerder/html-changer/src/HtmlChanger.php
on line
552
Deprecated
: Creation of dynamic property html_changer\EndingTag::$attributes is deprecated in
/var/www/html/worldnews/wp-content/plugins/automatic-internal-links-for-seo/vendor/friedolinfoerder/html-changer/src/HtmlChanger.php
on line
552
Deprecated
: Creation of dynamic property html_changer\EndingTag::$attributes is deprecated in
/var/www/html/worldnews/wp-content/plugins/automatic-internal-links-for-seo/vendor/friedolinfoerder/html-changer/src/HtmlChanger.php
on line
552
Deprecated
: Creation of dynamic property html_changer\EndingTag::$attributes is deprecated in
/var/www/html/worldnews/wp-content/plugins/automatic-internal-links-for-seo/vendor/friedolinfoerder/html-changer/src/HtmlChanger.php
on line
552
Deprecated
: Creation of dynamic property html_changer\EndingTag::$attributes is deprecated in
/var/www/html/worldnews/wp-content/plugins/automatic-internal-links-for-seo/vendor/friedolinfoerder/html-changer/src/HtmlChanger.php
on line
552
Deprecated
: Creation of dynamic property html_changer\EndingTag::$attributes is deprecated in
/var/www/html/worldnews/wp-content/plugins/automatic-internal-links-for-seo/vendor/friedolinfoerder/html-changer/src/HtmlChanger.php
on line
552
Deprecated
: Creation of dynamic property html_changer\EndingTag::$attributes is deprecated in
/var/www/html/worldnews/wp-content/plugins/automatic-internal-links-for-seo/vendor/friedolinfoerder/html-changer/src/HtmlChanger.php
on line
552
Deprecated
: Creation of dynamic property html_changer\EndingTag::$attributes is deprecated in
/var/www/html/worldnews/wp-content/plugins/automatic-internal-links-for-seo/vendor/friedolinfoerder/html-changer/src/HtmlChanger.php
on line
552
Deprecated
: Creation of dynamic property html_changer\EndingTag::$attributes is deprecated in
/var/www/html/worldnews/wp-content/plugins/automatic-internal-links-for-seo/vendor/friedolinfoerder/html-changer/src/HtmlChanger.php
on line
552
Deprecated
: Creation of dynamic property html_changer\EndingTag::$attributes is deprecated in
/var/www/html/worldnews/wp-content/plugins/automatic-internal-links-for-seo/vendor/friedolinfoerder/html-changer/src/HtmlChanger.php
on line
552
Deprecated
: Creation of dynamic property html_changer\EndingTag::$attributes is deprecated in
/var/www/html/worldnews/wp-content/plugins/automatic-internal-links-for-seo/vendor/friedolinfoerder/html-changer/src/HtmlChanger.php
on line
552
Deprecated
: Creation of dynamic property html_changer\EndingTag::$attributes is deprecated in
/var/www/html/worldnews/wp-content/plugins/automatic-internal-links-for-seo/vendor/friedolinfoerder/html-changer/src/HtmlChanger.php
on line
552
Deprecated
: Creation of dynamic property html_changer\EndingTag::$attributes is deprecated in
/var/www/html/worldnews/wp-content/plugins/automatic-internal-links-for-seo/vendor/friedolinfoerder/html-changer/src/HtmlChanger.php
on line
552
Deprecated
: Creation of dynamic property html_changer\EndingTag::$attributes is deprecated in
/var/www/html/worldnews/wp-content/plugins/automatic-internal-links-for-seo/vendor/friedolinfoerder/html-changer/src/HtmlChanger.php
on line
552
Deprecated
: Creation of dynamic property html_changer\EndingTag::$attributes is deprecated in
/var/www/html/worldnews/wp-content/plugins/automatic-internal-links-for-seo/vendor/friedolinfoerder/html-changer/src/HtmlChanger.php
on line
552
Deprecated
: Creation of dynamic property html_changer\EndingTag::$attributes is deprecated in
/var/www/html/worldnews/wp-content/plugins/automatic-internal-links-for-seo/vendor/friedolinfoerder/html-changer/src/HtmlChanger.php
on line
552
Deprecated
: Creation of dynamic property html_changer\EndingTag::$attributes is deprecated in
/var/www/html/worldnews/wp-content/plugins/automatic-internal-links-for-seo/vendor/friedolinfoerder/html-changer/src/HtmlChanger.php
on line
552
Deprecated
: Creation of dynamic property html_changer\EndingTag::$attributes is deprecated in
/var/www/html/worldnews/wp-content/plugins/automatic-internal-links-for-seo/vendor/friedolinfoerder/html-changer/src/HtmlChanger.php
on line
552
Deprecated
: Creation of dynamic property html_changer\EndingTag::$attributes is deprecated in
/var/www/html/worldnews/wp-content/plugins/automatic-internal-links-for-seo/vendor/friedolinfoerder/html-changer/src/HtmlChanger.php
on line
552
Deprecated
: Creation of dynamic property html_changer\EndingTag::$attributes is deprecated in
/var/www/html/worldnews/wp-content/plugins/automatic-internal-links-for-seo/vendor/friedolinfoerder/html-changer/src/HtmlChanger.php
on line
552
Deprecated
: Creation of dynamic property html_changer\EndingTag::$attributes is deprecated in
/var/www/html/worldnews/wp-content/plugins/automatic-internal-links-for-seo/vendor/friedolinfoerder/html-changer/src/HtmlChanger.php
on line
552
Deprecated
: Creation of dynamic property html_changer\EndingTag::$attributes is deprecated in
/var/www/html/worldnews/wp-content/plugins/automatic-internal-links-for-seo/vendor/friedolinfoerder/html-changer/src/HtmlChanger.php
on line
552
Deprecated
: Creation of dynamic property html_changer\EndingTag::$attributes is deprecated in
/var/www/html/worldnews/wp-content/plugins/automatic-internal-links-for-seo/vendor/friedolinfoerder/html-changer/src/HtmlChanger.php
on line
552
Deprecated
: Creation of dynamic property html_changer\EndingTag::$attributes is deprecated in
/var/www/html/worldnews/wp-content/plugins/automatic-internal-links-for-seo/vendor/friedolinfoerder/html-changer/src/HtmlChanger.php
on line
552
Deprecated
: Creation of dynamic property html_changer\EndingTag::$attributes is deprecated in
/var/www/html/worldnews/wp-content/plugins/automatic-internal-links-for-seo/vendor/friedolinfoerder/html-changer/src/HtmlChanger.php
on line
552
Deprecated
: Creation of dynamic property html_changer\EndingTag::$attributes is deprecated in
/var/www/html/worldnews/wp-content/plugins/automatic-internal-links-for-seo/vendor/friedolinfoerder/html-changer/src/HtmlChanger.php
on line
552
Deprecated
: Creation of dynamic property html_changer\EndingTag::$attributes is deprecated in
/var/www/html/worldnews/wp-content/plugins/automatic-internal-links-for-seo/vendor/friedolinfoerder/html-changer/src/HtmlChanger.php
on line
552
Deprecated
: Creation of dynamic property html_changer\EndingTag::$attributes is deprecated in
/var/www/html/worldnews/wp-content/plugins/automatic-internal-links-for-seo/vendor/friedolinfoerder/html-changer/src/HtmlChanger.php
on line
552
Deprecated
: Creation of dynamic property html_changer\EndingTag::$attributes is deprecated in
/var/www/html/worldnews/wp-content/plugins/automatic-internal-links-for-seo/vendor/friedolinfoerder/html-changer/src/HtmlChanger.php
on line
552
Deprecated
: Creation of dynamic property html_changer\EndingTag::$attributes is deprecated in
/var/www/html/worldnews/wp-content/plugins/automatic-internal-links-for-seo/vendor/friedolinfoerder/html-changer/src/HtmlChanger.php
on line
552
Deprecated
: Creation of dynamic property html_changer\EndingTag::$attributes is deprecated in
/var/www/html/worldnews/wp-content/plugins/automatic-internal-links-for-seo/vendor/friedolinfoerder/html-changer/src/HtmlChanger.php
on line
552
Deprecated
: Creation of dynamic property html_changer\EndingTag::$attributes is deprecated in
/var/www/html/worldnews/wp-content/plugins/automatic-internal-links-for-seo/vendor/friedolinfoerder/html-changer/src/HtmlChanger.php
on line
552
Deprecated
: Creation of dynamic property html_changer\EndingTag::$attributes is deprecated in
/var/www/html/worldnews/wp-content/plugins/automatic-internal-links-for-seo/vendor/friedolinfoerder/html-changer/src/HtmlChanger.php
on line
552
Deprecated
: Creation of dynamic property html_changer\EndingTag::$attributes is deprecated in
/var/www/html/worldnews/wp-content/plugins/automatic-internal-links-for-seo/vendor/friedolinfoerder/html-changer/src/HtmlChanger.php
on line
552
Deprecated
: Creation of dynamic property html_changer\EndingTag::$attributes is deprecated in
/var/www/html/worldnews/wp-content/plugins/automatic-internal-links-for-seo/vendor/friedolinfoerder/html-changer/src/HtmlChanger.php
on line
552
Deprecated
: Creation of dynamic property html_changer\EndingTag::$attributes is deprecated in
/var/www/html/worldnews/wp-content/plugins/automatic-internal-links-for-seo/vendor/friedolinfoerder/html-changer/src/HtmlChanger.php
on line
552
Deprecated
: Creation of dynamic property html_changer\EndingTag::$attributes is deprecated in
/var/www/html/worldnews/wp-content/plugins/automatic-internal-links-for-seo/vendor/friedolinfoerder/html-changer/src/HtmlChanger.php
on line
552
Deprecated
: Creation of dynamic property html_changer\EndingTag::$attributes is deprecated in
/var/www/html/worldnews/wp-content/plugins/automatic-internal-links-for-seo/vendor/friedolinfoerder/html-changer/src/HtmlChanger.php
on line
552
Deprecated
: Creation of dynamic property html_changer\EndingTag::$attributes is deprecated in
/var/www/html/worldnews/wp-content/plugins/automatic-internal-links-for-seo/vendor/friedolinfoerder/html-changer/src/HtmlChanger.php
on line
552
Deprecated
: Creation of dynamic property html_changer\EndingTag::$attributes is deprecated in
/var/www/html/worldnews/wp-content/plugins/automatic-internal-links-for-seo/vendor/friedolinfoerder/html-changer/src/HtmlChanger.php
on line
552
Deprecated
: Creation of dynamic property html_changer\EndingTag::$attributes is deprecated in
/var/www/html/worldnews/wp-content/plugins/automatic-internal-links-for-seo/vendor/friedolinfoerder/html-changer/src/HtmlChanger.php
on line
552
Deprecated
: Creation of dynamic property html_changer\EndingTag::$attributes is deprecated in
/var/www/html/worldnews/wp-content/plugins/automatic-internal-links-for-seo/vendor/friedolinfoerder/html-changer/src/HtmlChanger.php
on line
552
Deprecated
: Creation of dynamic property html_changer\EndingTag::$attributes is deprecated in
/var/www/html/worldnews/wp-content/plugins/automatic-internal-links-for-seo/vendor/friedolinfoerder/html-changer/src/HtmlChanger.php
on line
552
Deprecated
: Creation of dynamic property html_changer\EndingTag::$attributes is deprecated in
/var/www/html/worldnews/wp-content/plugins/automatic-internal-links-for-seo/vendor/friedolinfoerder/html-changer/src/HtmlChanger.php
on line
552
Deprecated
: Creation of dynamic property html_changer\EndingTag::$attributes is deprecated in
/var/www/html/worldnews/wp-content/plugins/automatic-internal-links-for-seo/vendor/friedolinfoerder/html-changer/src/HtmlChanger.php
on line
552
Deprecated
: Creation of dynamic property html_changer\EndingTag::$attributes is deprecated in
/var/www/html/worldnews/wp-content/plugins/automatic-internal-links-for-seo/vendor/friedolinfoerder/html-changer/src/HtmlChanger.php
on line
552
Deprecated
: Creation of dynamic property html_changer\EndingTag::$attributes is deprecated in
/var/www/html/worldnews/wp-content/plugins/automatic-internal-links-for-seo/vendor/friedolinfoerder/html-changer/src/HtmlChanger.php
on line
552
Deprecated
: Creation of dynamic property html_changer\EndingTag::$attributes is deprecated in
/var/www/html/worldnews/wp-content/plugins/automatic-internal-links-for-seo/vendor/friedolinfoerder/html-changer/src/HtmlChanger.php
on line
552
Deprecated
: Creation of dynamic property html_changer\EndingTag::$attributes is deprecated in
/var/www/html/worldnews/wp-content/plugins/automatic-internal-links-for-seo/vendor/friedolinfoerder/html-changer/src/HtmlChanger.php
on line
552
Deprecated
: Creation of dynamic property html_changer\EndingTag::$attributes is deprecated in
/var/www/html/worldnews/wp-content/plugins/automatic-internal-links-for-seo/vendor/friedolinfoerder/html-changer/src/HtmlChanger.php
on line
552
Deprecated
: Creation of dynamic property html_changer\EndingTag::$attributes is deprecated in
/var/www/html/worldnews/wp-content/plugins/automatic-internal-links-for-seo/vendor/friedolinfoerder/html-changer/src/HtmlChanger.php
on line
552
Deprecated
: Creation of dynamic property html_changer\EndingTag::$attributes is deprecated in
/var/www/html/worldnews/wp-content/plugins/automatic-internal-links-for-seo/vendor/friedolinfoerder/html-changer/src/HtmlChanger.php
on line
552
Deprecated
: Creation of dynamic property html_changer\EndingTag::$attributes is deprecated in
/var/www/html/worldnews/wp-content/plugins/automatic-internal-links-for-seo/vendor/friedolinfoerder/html-changer/src/HtmlChanger.php
on line
552
Deprecated
: Creation of dynamic property html_changer\EndingTag::$attributes is deprecated in
/var/www/html/worldnews/wp-content/plugins/automatic-internal-links-for-seo/vendor/friedolinfoerder/html-changer/src/HtmlChanger.php
on line
552
Deprecated
: Creation of dynamic property html_changer\EndingTag::$attributes is deprecated in
/var/www/html/worldnews/wp-content/plugins/automatic-internal-links-for-seo/vendor/friedolinfoerder/html-changer/src/HtmlChanger.php
on line
552
Deprecated
: Creation of dynamic property html_changer\EndingTag::$attributes is deprecated in
/var/www/html/worldnews/wp-content/plugins/automatic-internal-links-for-seo/vendor/friedolinfoerder/html-changer/src/HtmlChanger.php
on line
552
Deprecated
: Creation of dynamic property html_changer\EndingTag::$attributes is deprecated in
/var/www/html/worldnews/wp-content/plugins/automatic-internal-links-for-seo/vendor/friedolinfoerder/html-changer/src/HtmlChanger.php
on line
552
Deprecated
: Creation of dynamic property html_changer\EndingTag::$attributes is deprecated in
/var/www/html/worldnews/wp-content/plugins/automatic-internal-links-for-seo/vendor/friedolinfoerder/html-changer/src/HtmlChanger.php
on line
552
Deprecated
: Creation of dynamic property html_changer\EndingTag::$attributes is deprecated in
/var/www/html/worldnews/wp-content/plugins/automatic-internal-links-for-seo/vendor/friedolinfoerder/html-changer/src/HtmlChanger.php
on line
552
Deprecated
: Creation of dynamic property html_changer\EndingTag::$attributes is deprecated in
/var/www/html/worldnews/wp-content/plugins/automatic-internal-links-for-seo/vendor/friedolinfoerder/html-changer/src/HtmlChanger.php
on line
552
Deprecated
: Creation of dynamic property html_changer\EndingTag::$attributes is deprecated in
/var/www/html/worldnews/wp-content/plugins/automatic-internal-links-for-seo/vendor/friedolinfoerder/html-changer/src/HtmlChanger.php
on line
552
Deprecated
: Creation of dynamic property html_changer\EndingTag::$attributes is deprecated in
/var/www/html/worldnews/wp-content/plugins/automatic-internal-links-for-seo/vendor/friedolinfoerder/html-changer/src/HtmlChanger.php
on line
552
Deprecated
: Creation of dynamic property html_changer\EndingTag::$attributes is deprecated in
/var/www/html/worldnews/wp-content/plugins/automatic-internal-links-for-seo/vendor/friedolinfoerder/html-changer/src/HtmlChanger.php
on line
552
Deprecated
: Creation of dynamic property html_changer\EndingTag::$attributes is deprecated in
/var/www/html/worldnews/wp-content/plugins/automatic-internal-links-for-seo/vendor/friedolinfoerder/html-changer/src/HtmlChanger.php
on line
552
Deprecated
: Creation of dynamic property html_changer\EndingTag::$attributes is deprecated in
/var/www/html/worldnews/wp-content/plugins/automatic-internal-links-for-seo/vendor/friedolinfoerder/html-changer/src/HtmlChanger.php
on line
552
Deprecated
: Creation of dynamic property html_changer\EndingTag::$attributes is deprecated in
/var/www/html/worldnews/wp-content/plugins/automatic-internal-links-for-seo/vendor/friedolinfoerder/html-changer/src/HtmlChanger.php
on line
552
Deprecated
: Creation of dynamic property html_changer\EndingTag::$attributes is deprecated in
/var/www/html/worldnews/wp-content/plugins/automatic-internal-links-for-seo/vendor/friedolinfoerder/html-changer/src/HtmlChanger.php
on line
552
Deprecated
: Creation of dynamic property html_changer\EndingTag::$attributes is deprecated in
/var/www/html/worldnews/wp-content/plugins/automatic-internal-links-for-seo/vendor/friedolinfoerder/html-changer/src/HtmlChanger.php
on line
552
Deprecated
: Creation of dynamic property html_changer\EndingTag::$attributes is deprecated in
/var/www/html/worldnews/wp-content/plugins/automatic-internal-links-for-seo/vendor/friedolinfoerder/html-changer/src/HtmlChanger.php
on line
552
Deprecated
: Creation of dynamic property html_changer\EndingTag::$attributes is deprecated in
/var/www/html/worldnews/wp-content/plugins/automatic-internal-links-for-seo/vendor/friedolinfoerder/html-changer/src/HtmlChanger.php
on line
552
Deprecated
: Creation of dynamic property html_changer\EndingTag::$attributes is deprecated in
/var/www/html/worldnews/wp-content/plugins/automatic-internal-links-for-seo/vendor/friedolinfoerder/html-changer/src/HtmlChanger.php
on line
552
Deprecated
: Creation of dynamic property html_changer\EndingTag::$attributes is deprecated in
/var/www/html/worldnews/wp-content/plugins/automatic-internal-links-for-seo/vendor/friedolinfoerder/html-changer/src/HtmlChanger.php
on line
552
Deprecated
: Creation of dynamic property html_changer\EndingTag::$attributes is deprecated in
/var/www/html/worldnews/wp-content/plugins/automatic-internal-links-for-seo/vendor/friedolinfoerder/html-changer/src/HtmlChanger.php
on line
552
Deprecated
: Creation of dynamic property html_changer\EndingTag::$attributes is deprecated in
/var/www/html/worldnews/wp-content/plugins/automatic-internal-links-for-seo/vendor/friedolinfoerder/html-changer/src/HtmlChanger.php
on line
552
Deprecated
: Creation of dynamic property html_changer\EndingTag::$attributes is deprecated in
/var/www/html/worldnews/wp-content/plugins/automatic-internal-links-for-seo/vendor/friedolinfoerder/html-changer/src/HtmlChanger.php
on line
552
Deprecated
: Creation of dynamic property html_changer\EndingTag::$attributes is deprecated in
/var/www/html/worldnews/wp-content/plugins/automatic-internal-links-for-seo/vendor/friedolinfoerder/html-changer/src/HtmlChanger.php
on line
552
Deprecated
: Creation of dynamic property html_changer\EndingTag::$attributes is deprecated in
/var/www/html/worldnews/wp-content/plugins/automatic-internal-links-for-seo/vendor/friedolinfoerder/html-changer/src/HtmlChanger.php
on line
552
Deprecated
: Creation of dynamic property html_changer\EndingTag::$attributes is deprecated in
/var/www/html/worldnews/wp-content/plugins/automatic-internal-links-for-seo/vendor/friedolinfoerder/html-changer/src/HtmlChanger.php
on line
552
Deprecated
: Creation of dynamic property html_changer\EndingTag::$attributes is deprecated in
/var/www/html/worldnews/wp-content/plugins/automatic-internal-links-for-seo/vendor/friedolinfoerder/html-changer/src/HtmlChanger.php
on line
552
Deprecated
: Creation of dynamic property html_changer\EndingTag::$attributes is deprecated in
/var/www/html/worldnews/wp-content/plugins/automatic-internal-links-for-seo/vendor/friedolinfoerder/html-changer/src/HtmlChanger.php
on line
552
Deprecated
: Creation of dynamic property html_changer\EndingTag::$attributes is deprecated in
/var/www/html/worldnews/wp-content/plugins/automatic-internal-links-for-seo/vendor/friedolinfoerder/html-changer/src/HtmlChanger.php
on line
552
Deprecated
: Creation of dynamic property html_changer\EndingTag::$attributes is deprecated in
/var/www/html/worldnews/wp-content/plugins/automatic-internal-links-for-seo/vendor/friedolinfoerder/html-changer/src/HtmlChanger.php
on line
552
Deprecated
: Creation of dynamic property html_changer\EndingTag::$attributes is deprecated in
/var/www/html/worldnews/wp-content/plugins/automatic-internal-links-for-seo/vendor/friedolinfoerder/html-changer/src/HtmlChanger.php
on line
552
Deprecated
: Creation of dynamic property html_changer\EndingTag::$attributes is deprecated in
/var/www/html/worldnews/wp-content/plugins/automatic-internal-links-for-seo/vendor/friedolinfoerder/html-changer/src/HtmlChanger.php
on line
552
Deprecated
: Creation of dynamic property html_changer\EndingTag::$attributes is deprecated in
/var/www/html/worldnews/wp-content/plugins/automatic-internal-links-for-seo/vendor/friedolinfoerder/html-changer/src/HtmlChanger.php
on line
552
Deprecated
: Creation of dynamic property html_changer\EndingTag::$attributes is deprecated in
/var/www/html/worldnews/wp-content/plugins/automatic-internal-links-for-seo/vendor/friedolinfoerder/html-changer/src/HtmlChanger.php
on line
552
Deprecated
: Creation of dynamic property html_changer\EndingTag::$attributes is deprecated in
/var/www/html/worldnews/wp-content/plugins/automatic-internal-links-for-seo/vendor/friedolinfoerder/html-changer/src/HtmlChanger.php
on line
552
Deprecated
: Creation of dynamic property html_changer\EndingTag::$attributes is deprecated in
/var/www/html/worldnews/wp-content/plugins/automatic-internal-links-for-seo/vendor/friedolinfoerder/html-changer/src/HtmlChanger.php
on line
552
Deprecated
: Creation of dynamic property html_changer\EndingTag::$attributes is deprecated in
/var/www/html/worldnews/wp-content/plugins/automatic-internal-links-for-seo/vendor/friedolinfoerder/html-changer/src/HtmlChanger.php
on line
552
Deprecated
: Creation of dynamic property html_changer\EndingTag::$attributes is deprecated in
/var/www/html/worldnews/wp-content/plugins/automatic-internal-links-for-seo/vendor/friedolinfoerder/html-changer/src/HtmlChanger.php
on line
552
Deprecated
: Creation of dynamic property html_changer\EndingTag::$attributes is deprecated in
/var/www/html/worldnews/wp-content/plugins/automatic-internal-links-for-seo/vendor/friedolinfoerder/html-changer/src/HtmlChanger.php
on line
552
Deprecated
: Creation of dynamic property html_changer\EndingTag::$attributes is deprecated in
/var/www/html/worldnews/wp-content/plugins/automatic-internal-links-for-seo/vendor/friedolinfoerder/html-changer/src/HtmlChanger.php
on line
552
Deprecated
: Creation of dynamic property html_changer\EndingTag::$attributes is deprecated in
/var/www/html/worldnews/wp-content/plugins/automatic-internal-links-for-seo/vendor/friedolinfoerder/html-changer/src/HtmlChanger.php
on line
552
Deprecated
: Creation of dynamic property html_changer\EndingTag::$attributes is deprecated in
/var/www/html/worldnews/wp-content/plugins/automatic-internal-links-for-seo/vendor/friedolinfoerder/html-changer/src/HtmlChanger.php
on line
552
Deprecated
: Creation of dynamic property html_changer\EndingTag::$attributes is deprecated in
/var/www/html/worldnews/wp-content/plugins/automatic-internal-links-for-seo/vendor/friedolinfoerder/html-changer/src/HtmlChanger.php
on line
552
Deprecated
: Creation of dynamic property html_changer\EndingTag::$attributes is deprecated in
/var/www/html/worldnews/wp-content/plugins/automatic-internal-links-for-seo/vendor/friedolinfoerder/html-changer/src/HtmlChanger.php
on line
552
Deprecated
: Creation of dynamic property html_changer\EndingTag::$attributes is deprecated in
/var/www/html/worldnews/wp-content/plugins/automatic-internal-links-for-seo/vendor/friedolinfoerder/html-changer/src/HtmlChanger.php
on line
552
Deprecated
: Creation of dynamic property html_changer\EndingTag::$attributes is deprecated in
/var/www/html/worldnews/wp-content/plugins/automatic-internal-links-for-seo/vendor/friedolinfoerder/html-changer/src/HtmlChanger.php
on line
552
Deprecated
: Creation of dynamic property html_changer\EndingTag::$attributes is deprecated in
/var/www/html/worldnews/wp-content/plugins/automatic-internal-links-for-seo/vendor/friedolinfoerder/html-changer/src/HtmlChanger.php
on line
552
Deprecated
: Creation of dynamic property html_changer\EndingTag::$attributes is deprecated in
/var/www/html/worldnews/wp-content/plugins/automatic-internal-links-for-seo/vendor/friedolinfoerder/html-changer/src/HtmlChanger.php
on line
552
Deprecated
: Creation of dynamic property html_changer\EndingTag::$attributes is deprecated in
/var/www/html/worldnews/wp-content/plugins/automatic-internal-links-for-seo/vendor/friedolinfoerder/html-changer/src/HtmlChanger.php
on line
552
Deprecated
: Creation of dynamic property html_changer\EndingTag::$attributes is deprecated in
/var/www/html/worldnews/wp-content/plugins/automatic-internal-links-for-seo/vendor/friedolinfoerder/html-changer/src/HtmlChanger.php
on line
552
Deprecated
: Creation of dynamic property html_changer\EndingTag::$attributes is deprecated in
/var/www/html/worldnews/wp-content/plugins/automatic-internal-links-for-seo/vendor/friedolinfoerder/html-changer/src/HtmlChanger.php
on line
552
Deprecated
: Creation of dynamic property html_changer\EndingTag::$attributes is deprecated in
/var/www/html/worldnews/wp-content/plugins/automatic-internal-links-for-seo/vendor/friedolinfoerder/html-changer/src/HtmlChanger.php
on line
552
Deprecated
: Creation of dynamic property html_changer\EndingTag::$attributes is deprecated in
/var/www/html/worldnews/wp-content/plugins/automatic-internal-links-for-seo/vendor/friedolinfoerder/html-changer/src/HtmlChanger.php
on line
552
Deprecated
: Creation of dynamic property html_changer\EndingTag::$attributes is deprecated in
/var/www/html/worldnews/wp-content/plugins/automatic-internal-links-for-seo/vendor/friedolinfoerder/html-changer/src/HtmlChanger.php
on line
552
Deprecated
: Creation of dynamic property html_changer\EndingTag::$attributes is deprecated in
/var/www/html/worldnews/wp-content/plugins/automatic-internal-links-for-seo/vendor/friedolinfoerder/html-changer/src/HtmlChanger.php
on line
552
Deprecated
: Creation of dynamic property html_changer\EndingTag::$attributes is deprecated in
/var/www/html/worldnews/wp-content/plugins/automatic-internal-links-for-seo/vendor/friedolinfoerder/html-changer/src/HtmlChanger.php
on line
552
Deprecated
: Creation of dynamic property html_changer\EndingTag::$attributes is deprecated in
/var/www/html/worldnews/wp-content/plugins/automatic-internal-links-for-seo/vendor/friedolinfoerder/html-changer/src/HtmlChanger.php
on line
552
Deprecated
: Creation of dynamic property html_changer\EndingTag::$attributes is deprecated in
/var/www/html/worldnews/wp-content/plugins/automatic-internal-links-for-seo/vendor/friedolinfoerder/html-changer/src/HtmlChanger.php
on line
552
Deprecated
: Creation of dynamic property html_changer\EndingTag::$attributes is deprecated in
/var/www/html/worldnews/wp-content/plugins/automatic-internal-links-for-seo/vendor/friedolinfoerder/html-changer/src/HtmlChanger.php
on line
552
Deprecated
: Creation of dynamic property html_changer\EndingTag::$attributes is deprecated in
/var/www/html/worldnews/wp-content/plugins/automatic-internal-links-for-seo/vendor/friedolinfoerder/html-changer/src/HtmlChanger.php
on line
552
Deprecated
: Creation of dynamic property html_changer\EndingTag::$attributes is deprecated in
/var/www/html/worldnews/wp-content/plugins/automatic-internal-links-for-seo/vendor/friedolinfoerder/html-changer/src/HtmlChanger.php
on line
552
Deprecated
: Creation of dynamic property html_changer\EndingTag::$attributes is deprecated in
/var/www/html/worldnews/wp-content/plugins/automatic-internal-links-for-seo/vendor/friedolinfoerder/html-changer/src/HtmlChanger.php
on line
552
Deprecated
: Creation of dynamic property html_changer\EndingTag::$attributes is deprecated in
/var/www/html/worldnews/wp-content/plugins/automatic-internal-links-for-seo/vendor/friedolinfoerder/html-changer/src/HtmlChanger.php
on line
552
Deprecated
: Creation of dynamic property html_changer\EndingTag::$attributes is deprecated in
/var/www/html/worldnews/wp-content/plugins/automatic-internal-links-for-seo/vendor/friedolinfoerder/html-changer/src/HtmlChanger.php
on line
552
Deprecated
: Creation of dynamic property html_changer\EndingTag::$attributes is deprecated in
/var/www/html/worldnews/wp-content/plugins/automatic-internal-links-for-seo/vendor/friedolinfoerder/html-changer/src/HtmlChanger.php
on line
552
Deprecated
: Creation of dynamic property html_changer\EndingTag::$attributes is deprecated in
/var/www/html/worldnews/wp-content/plugins/automatic-internal-links-for-seo/vendor/friedolinfoerder/html-changer/src/HtmlChanger.php
on line
552
Deprecated
: Creation of dynamic property html_changer\EndingTag::$attributes is deprecated in
/var/www/html/worldnews/wp-content/plugins/automatic-internal-links-for-seo/vendor/friedolinfoerder/html-changer/src/HtmlChanger.php
on line
552
Deprecated
: Creation of dynamic property html_changer\EndingTag::$attributes is deprecated in
/var/www/html/worldnews/wp-content/plugins/automatic-internal-links-for-seo/vendor/friedolinfoerder/html-changer/src/HtmlChanger.php
on line
552
Deprecated
: Creation of dynamic property html_changer\EndingTag::$attributes is deprecated in
/var/www/html/worldnews/wp-content/plugins/automatic-internal-links-for-seo/vendor/friedolinfoerder/html-changer/src/HtmlChanger.php
on line
552
Deprecated
: Creation of dynamic property html_changer\EndingTag::$attributes is deprecated in
/var/www/html/worldnews/wp-content/plugins/automatic-internal-links-for-seo/vendor/friedolinfoerder/html-changer/src/HtmlChanger.php
on line
552
Deprecated
: Creation of dynamic property html_changer\EndingTag::$attributes is deprecated in
/var/www/html/worldnews/wp-content/plugins/automatic-internal-links-for-seo/vendor/friedolinfoerder/html-changer/src/HtmlChanger.php
on line
552
Deprecated
: Creation of dynamic property html_changer\EndingTag::$attributes is deprecated in
/var/www/html/worldnews/wp-content/plugins/automatic-internal-links-for-seo/vendor/friedolinfoerder/html-changer/src/HtmlChanger.php
on line
552
Deprecated
: Creation of dynamic property html_changer\EndingTag::$attributes is deprecated in
/var/www/html/worldnews/wp-content/plugins/automatic-internal-links-for-seo/vendor/friedolinfoerder/html-changer/src/HtmlChanger.php
on line
552
Deprecated
: Creation of dynamic property html_changer\EndingTag::$attributes is deprecated in
/var/www/html/worldnews/wp-content/plugins/automatic-internal-links-for-seo/vendor/friedolinfoerder/html-changer/src/HtmlChanger.php
on line
552
Deprecated
: Creation of dynamic property html_changer\EndingTag::$attributes is deprecated in
/var/www/html/worldnews/wp-content/plugins/automatic-internal-links-for-seo/vendor/friedolinfoerder/html-changer/src/HtmlChanger.php
on line
552
Deprecated
: Creation of dynamic property html_changer\EndingTag::$attributes is deprecated in
/var/www/html/worldnews/wp-content/plugins/automatic-internal-links-for-seo/vendor/friedolinfoerder/html-changer/src/HtmlChanger.php
on line
552
Deprecated
: Creation of dynamic property html_changer\EndingTag::$attributes is deprecated in
/var/www/html/worldnews/wp-content/plugins/automatic-internal-links-for-seo/vendor/friedolinfoerder/html-changer/src/HtmlChanger.php
on line
552
Deprecated
: Creation of dynamic property html_changer\EndingTag::$attributes is deprecated in
/var/www/html/worldnews/wp-content/plugins/automatic-internal-links-for-seo/vendor/friedolinfoerder/html-changer/src/HtmlChanger.php
on line
552
Deprecated
: Creation of dynamic property html_changer\EndingTag::$attributes is deprecated in
/var/www/html/worldnews/wp-content/plugins/automatic-internal-links-for-seo/vendor/friedolinfoerder/html-changer/src/HtmlChanger.php
on line
552
Deprecated
: Creation of dynamic property html_changer\EndingTag::$attributes is deprecated in
/var/www/html/worldnews/wp-content/plugins/automatic-internal-links-for-seo/vendor/friedolinfoerder/html-changer/src/HtmlChanger.php
on line
552
Deprecated
: Creation of dynamic property html_changer\EndingTag::$attributes is deprecated in
/var/www/html/worldnews/wp-content/plugins/automatic-internal-links-for-seo/vendor/friedolinfoerder/html-changer/src/HtmlChanger.php
on line
552
Deprecated
: Creation of dynamic property html_changer\EndingTag::$attributes is deprecated in
/var/www/html/worldnews/wp-content/plugins/automatic-internal-links-for-seo/vendor/friedolinfoerder/html-changer/src/HtmlChanger.php
on line
552
Deprecated
: Creation of dynamic property html_changer\EndingTag::$attributes is deprecated in
/var/www/html/worldnews/wp-content/plugins/automatic-internal-links-for-seo/vendor/friedolinfoerder/html-changer/src/HtmlChanger.php
on line
552
Deprecated
: Creation of dynamic property html_changer\EndingTag::$attributes is deprecated in
/var/www/html/worldnews/wp-content/plugins/automatic-internal-links-for-seo/vendor/friedolinfoerder/html-changer/src/HtmlChanger.php
on line
552
Deprecated
: Creation of dynamic property html_changer\EndingTag::$attributes is deprecated in
/var/www/html/worldnews/wp-content/plugins/automatic-internal-links-for-seo/vendor/friedolinfoerder/html-changer/src/HtmlChanger.php
on line
552
Deprecated
: Creation of dynamic property html_changer\EndingTag::$attributes is deprecated in
/var/www/html/worldnews/wp-content/plugins/automatic-internal-links-for-seo/vendor/friedolinfoerder/html-changer/src/HtmlChanger.php
on line
552
Deprecated
: Creation of dynamic property html_changer\EndingTag::$attributes is deprecated in
/var/www/html/worldnews/wp-content/plugins/automatic-internal-links-for-seo/vendor/friedolinfoerder/html-changer/src/HtmlChanger.php
on line
552
Deprecated
: Creation of dynamic property html_changer\EndingTag::$attributes is deprecated in
/var/www/html/worldnews/wp-content/plugins/automatic-internal-links-for-seo/vendor/friedolinfoerder/html-changer/src/HtmlChanger.php
on line
552
Deprecated
: Creation of dynamic property html_changer\EndingTag::$attributes is deprecated in
/var/www/html/worldnews/wp-content/plugins/automatic-internal-links-for-seo/vendor/friedolinfoerder/html-changer/src/HtmlChanger.php
on line
552
Deprecated
: Creation of dynamic property html_changer\EndingTag::$attributes is deprecated in
/var/www/html/worldnews/wp-content/plugins/automatic-internal-links-for-seo/vendor/friedolinfoerder/html-changer/src/HtmlChanger.php
on line
552
Deprecated
: Creation of dynamic property html_changer\EndingTag::$attributes is deprecated in
/var/www/html/worldnews/wp-content/plugins/automatic-internal-links-for-seo/vendor/friedolinfoerder/html-changer/src/HtmlChanger.php
on line
552
Deprecated
: Creation of dynamic property html_changer\EndingTag::$attributes is deprecated in
/var/www/html/worldnews/wp-content/plugins/automatic-internal-links-for-seo/vendor/friedolinfoerder/html-changer/src/HtmlChanger.php
on line
552
Deprecated
: Creation of dynamic property html_changer\EndingTag::$attributes is deprecated in
/var/www/html/worldnews/wp-content/plugins/automatic-internal-links-for-seo/vendor/friedolinfoerder/html-changer/src/HtmlChanger.php
on line
552
Deprecated
: Creation of dynamic property html_changer\EndingTag::$attributes is deprecated in
/var/www/html/worldnews/wp-content/plugins/automatic-internal-links-for-seo/vendor/friedolinfoerder/html-changer/src/HtmlChanger.php
on line
552
Deprecated
: Creation of dynamic property html_changer\EndingTag::$attributes is deprecated in
/var/www/html/worldnews/wp-content/plugins/automatic-internal-links-for-seo/vendor/friedolinfoerder/html-changer/src/HtmlChanger.php
on line
552
Deprecated
: Creation of dynamic property html_changer\EndingTag::$attributes is deprecated in
/var/www/html/worldnews/wp-content/plugins/automatic-internal-links-for-seo/vendor/friedolinfoerder/html-changer/src/HtmlChanger.php
on line
552
Deprecated
: Creation of dynamic property html_changer\EndingTag::$attributes is deprecated in
/var/www/html/worldnews/wp-content/plugins/automatic-internal-links-for-seo/vendor/friedolinfoerder/html-changer/src/HtmlChanger.php
on line
552
Deprecated
: Creation of dynamic property html_changer\EndingTag::$attributes is deprecated in
/var/www/html/worldnews/wp-content/plugins/automatic-internal-links-for-seo/vendor/friedolinfoerder/html-changer/src/HtmlChanger.php
on line
552
Deprecated
: Creation of dynamic property html_changer\EndingTag::$attributes is deprecated in
/var/www/html/worldnews/wp-content/plugins/automatic-internal-links-for-seo/vendor/friedolinfoerder/html-changer/src/HtmlChanger.php
on line
552
Deprecated
: Creation of dynamic property html_changer\EndingTag::$attributes is deprecated in
/var/www/html/worldnews/wp-content/plugins/automatic-internal-links-for-seo/vendor/friedolinfoerder/html-changer/src/HtmlChanger.php
on line
552
Deprecated
: Creation of dynamic property html_changer\EndingTag::$attributes is deprecated in
/var/www/html/worldnews/wp-content/plugins/automatic-internal-links-for-seo/vendor/friedolinfoerder/html-changer/src/HtmlChanger.php
on line
552
Deprecated
: Creation of dynamic property html_changer\EndingTag::$attributes is deprecated in
/var/www/html/worldnews/wp-content/plugins/automatic-internal-links-for-seo/vendor/friedolinfoerder/html-changer/src/HtmlChanger.php
on line
552
Deprecated
: Creation of dynamic property html_changer\EndingTag::$attributes is deprecated in
/var/www/html/worldnews/wp-content/plugins/automatic-internal-links-for-seo/vendor/friedolinfoerder/html-changer/src/HtmlChanger.php
on line
552
Deprecated
: Creation of dynamic property html_changer\EndingTag::$attributes is deprecated in
/var/www/html/worldnews/wp-content/plugins/automatic-internal-links-for-seo/vendor/friedolinfoerder/html-changer/src/HtmlChanger.php
on line
552
Deprecated
: Creation of dynamic property html_changer\EndingTag::$attributes is deprecated in
/var/www/html/worldnews/wp-content/plugins/automatic-internal-links-for-seo/vendor/friedolinfoerder/html-changer/src/HtmlChanger.php
on line
552
Deprecated
: Creation of dynamic property html_changer\EndingTag::$attributes is deprecated in
/var/www/html/worldnews/wp-content/plugins/automatic-internal-links-for-seo/vendor/friedolinfoerder/html-changer/src/HtmlChanger.php
on line
552
Deprecated
: Creation of dynamic property html_changer\EndingTag::$attributes is deprecated in
/var/www/html/worldnews/wp-content/plugins/automatic-internal-links-for-seo/vendor/friedolinfoerder/html-changer/src/HtmlChanger.php
on line
552
Deprecated
: Creation of dynamic property html_changer\EndingTag::$attributes is deprecated in
/var/www/html/worldnews/wp-content/plugins/automatic-internal-links-for-seo/vendor/friedolinfoerder/html-changer/src/HtmlChanger.php
on line
552
Deprecated
: Creation of dynamic property html_changer\EndingTag::$attributes is deprecated in
/var/www/html/worldnews/wp-content/plugins/automatic-internal-links-for-seo/vendor/friedolinfoerder/html-changer/src/HtmlChanger.php
on line
552
Deprecated
: Creation of dynamic property html_changer\EndingTag::$attributes is deprecated in
/var/www/html/worldnews/wp-content/plugins/automatic-internal-links-for-seo/vendor/friedolinfoerder/html-changer/src/HtmlChanger.php
on line
552
Deprecated
: Creation of dynamic property html_changer\EndingTag::$attributes is deprecated in
/var/www/html/worldnews/wp-content/plugins/automatic-internal-links-for-seo/vendor/friedolinfoerder/html-changer/src/HtmlChanger.php
on line
552
Deprecated
: Creation of dynamic property html_changer\EndingTag::$attributes is deprecated in
/var/www/html/worldnews/wp-content/plugins/automatic-internal-links-for-seo/vendor/friedolinfoerder/html-changer/src/HtmlChanger.php
on line
552
Deprecated
: Creation of dynamic property html_changer\EndingTag::$attributes is deprecated in
/var/www/html/worldnews/wp-content/plugins/automatic-internal-links-for-seo/vendor/friedolinfoerder/html-changer/src/HtmlChanger.php
on line
552
Personal finance | Social Security 'Gamble' Could See Americans Cut Off From Spouse's Payments
A Social Security expert has warned of the potential ramifications if you wait to draw spousal benefits.
With inflation standing at 3.2 percent, many retirees are feeling guilty if they dip into their Social Security benefits early. Waiting until age 70 is predicted to boost your benefits by more than 40 percent.
But Sylvia Gordon, JD, the money expert behind the TikTok account @TheMedicareFamily, is telling Americans to ditch the conventional wisdom and draw their benefits early.
"Almost every financial planner will advise to wait to max out benefits at your full retirement age," Gordon told Newsweek. "I'm in the opposite camp. There is no promise of tomorrow. If you already have some chronic conditions and may have a shortened life expectancy, why gamble?"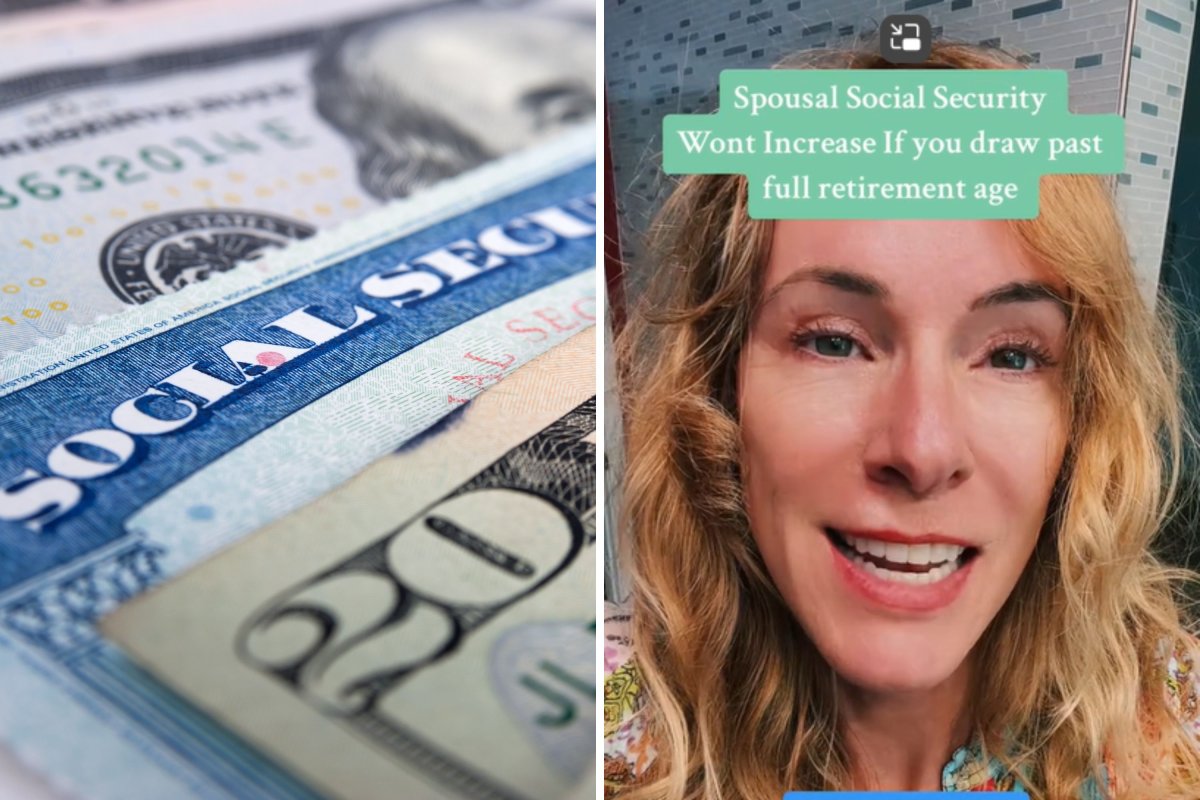 Gordon said there's also a ton of uncertainty surrounding the Social Security program itself. Because of this, there will likely be reduced benefits in the future to keep the program solvent.
Couples who wait until the higher earning spouses max their benefits at age 70 face additional issues.
"Yes, he gets more, but his wife is blocked from getting half of his amount," Gordon said. "Dollar for dollar, it is often more beneficial for him to draw as his FRA and his wife to do the same. This generation of retirees has a lot of stay-at-home mothers who can only draw if their spouse draws, since they didn't pay into SS long enough to draw on their own."
Gordon told a specific story on a recent TikTok video about a woman whose husband was waiting until age 70 to get his maximum benefits—she said it isn't a good gamble due to life expectancies.
"The most you can get as a spouse is 50 percent of your higher-earning spouse's amount at his full retirement age," Gordon said in the video.
Full retirement benefits typically start at age 66 or 67. If you wait those extra few years until 70, Gordon said, you just gave up a ton of money you'll never be able to get back.
"The longest you will wait to draw as a spouse will be your full retirement age, not his, your full retirement age," Gordon said.
Other retirement experts agree, even though this wisdom is often neglected in general Social Security advice for seniors.
"For most retirees, delaying the withdrawal of spousal Social Security benefits can lead to significant financial disadvantage and, for many, it's an outright scam," Liam Hunt, financial writer and analyst for GoldIRAGuide.org, told Newsweek. "Why? Because unlike individual Social Security benefits, which continue to grow each year you delay until age 70, spousal benefits do not increase in the same manner."
Once you reach full retirement age, there is no additional increase in spousal benefits for waiting. Therefore, delaying beyond this point means missing out on potential benefits without the advantage of increased future payments, experts say.
"You're basically leaving money on the table," Jeff Rose, CFP, CEO and founder of GoodFinancialCents.com told Newsweek. "It's like not cashing a check that's already in your name. The most you can get as a spouse is 50 percent of your partner's full benefit, and that percentage doesn't grow if you delay past the full retirement age."
The financial ramifications of delaying your spousal benefits can make a considerable impact on your quality of life during retirement, but the government has reason to suggest you wait.
"The government and retirement planners often advise you to wait," Hunt said. "Why? Because if you die before claiming benefits, you minimize the strain on the Social Security system. Government is disincentivized to promote long life expectancies under the current benefits system. Retirement planners do the same, because the more assets you fund your retirement with, the more fees they collect in the long run."
At the end of the day, experts say all retirees must determine what's best for them based on their specific situation, especially when it concerns waiting for their benefits.
"If you're in great health and want to maximize the amount you receive wait until 70," Mark Chen, the founder and CEO of Billsmart, told Newsweek. "If you need the money for expenses or are not in the best health, it's best to start taking Social Security as soon as possible."
Uncommon Knowledge
Newsweek is committed to challenging conventional wisdom and finding connections in the search for common ground.
Newsweek is committed to challenging conventional wisdom and finding connections in the search for common ground.
Related Search Query:-
Breaking News
Breaking News today
Breaking News headlines
Breaking News in English



#Social #Security #Gamble #Americans #Cut #Spouses #Payments